Confident Winston ready to take over Bucs' offense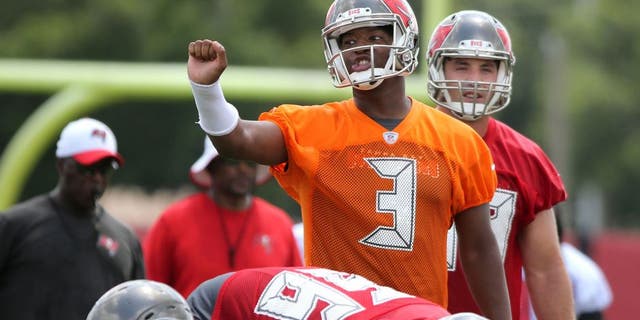 TAMPA, Fla. (AP) -- The large billboard standing on a major thoroughfare a few blocks from the home of the Tampa Bay Buccaneers suggests an offensive explosion is on the horizon.
Jameis Winston is preparing to lead it.
"Cannons will fire," reads the sign bearing an image of the top pick in the NFL draft presumably poised to throw a touchdown pass.
"Whatever it is," a television commercial implores, "he's got it."
Coach Lovie Smith and general manager Jason Licht are banking on their assessment -- not only of the young quarterback's ability as a football player, but his history of trouble off the field -- being right.
If they are, then the 103-foot long Pirate ship perched above the north end zone at Raymond James Stadium will be a lot noisier than usual in coming seasons. The ship fires eight cannons every time the Bucs move the football inside an opponent's 20-yard line. That's happened a lot since 2007, the last time Tampa Bay made the playoffs. But what the offense hasn't done enough under three coaches and eight different starting quarterbacks since then is actually get into the end zone to create even louder celebrations.
Winston is confident that's about to change, even if he isn't making any bold predictions about what he and the Bucs might accomplish this year.
Tampa Bay went 2-14 last season, its first under Smith and Licht.
"I can't look into the future," the 6-foot-4, 230-pound Winston said. "But I can tell you one thing, I don't like losing."
The rookie won the Heisman Trophy and led unbeaten Florida State to a national championship as a redshirt freshman two years ago.
The Seminoles contended for another title last season, earning a berth in the first college playoff, where the quest ended with his only loss as FSU's quarterback.
Smith and Licht selected Winston over No. 2 overall pick Marcus Mariota, the other Heisman Trophy-winning quarterback available in this year's draft.
They did so despite Winston's well-documented problems off the field, including a former Florida State student accusing him of rape; the quarterback said the sex was consensual and was never charged or arrested.
Winston and the Bucs feel he's learned from his mistakes, which they believe were related more to poor decision-making than the quarterback's character.
"Actions speak louder than words," Winston said, acknowledging he's not only committed to becoming a successful pro but also having a positive impact on the Tampa Bay community.
"I think as a competitor, you always have to have a chip on your shoulder. ... It doesn't matter the circumstances," he added. "You have to have a chip on your shoulder if you want to be great one day."
The Bucs like what they've seen, noting he's worked hard and done everything they've asked to get acclimated to the playbook and prepare for his first training camp.
"I feel like I've gotten better," Winston said, who's eager to get started.
Veterans report Friday. The first workout is Saturday.
Some reasons the Bucs enter training camp feeling they're capable contending for a playoff berth after finishing with their worst record in 28 years:
NEW DIRECTION: The Bucs played all of last season without former offensive coordinator Jeff Tedford, who underwent a heart procedure late in training camp and did not return. Dirk Koetter was hired after working the past three seasons with Matt Ryan in Atlanta. The Falcons have had one of the league's most productive attacks, and one of the keys to Winston's success will be how fast he can pick up Koetter's system while minimizing mistakes quarterbacks inevitably make as rookies.
BIG TARGETS: Winston has three "big" reasons to be excited about the group of receivers he has to work with. Vincent Jackson and Mike Evans, last year's first-round draft pick, are coming off 1,000-yard seasons even though the Bucs had one of the worst offenses in the league with Josh McCown and Mike Glennon at quarterback. Second-year tight end Austin Seferian-Jenkins is 6-foot-5, and when healthy as a rookie showed flashes why the Bucs think he can develop into a game changer.
LET'S GET DOUGIE GOING: Smith would like to take some of the burden off Winston by running the ball, something Tampa Bay has not done consistently with RB Doug Martin slowed by injuries the past two seasons. The fourth-year pro says he's healthy again and looking forward to reverting to the form he displayed as rookie, when he was third in the league behind Adrian Peterson and Calvin Johnson in total yards from scrimmage.
HELP UP FRONT: Winston isn't the only rookie being counted on to help the offense. The team used a pair of second-round draft picks on Donovan Smith, the projected starting left tackle, and Ali Marpet, who played at Division III Hobart and is being plugged in at right guard. The Bucs allowed 52 sacks a year ago, tied for third most in the league.
BETTER D: The defense, anchored by Pro Bowl tackle Gerald McCoy and linebacker Lavonte David, showed signs of improvement late last season. To bolster the unit, linebacker Bruce Carter, tackle Henry Melton, safety Chris Conte and cornerback Sterling Moore -- all of whom have experience in a Tampa 2 scheme -- were signed in free agency. End George Johnson was added to bolster an inconsistent pass rush.