Concrete barrier: Broken chunk of track halts race at Dover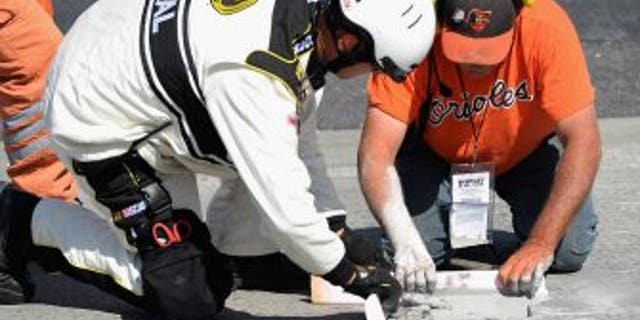 NEWYou can now listen to Fox News articles!
Sunday's FedEx 400 benefiting Autism Speaks was brought to a temporary halt after 160 laps, when part of the concrete track came up in Turn 2.
Sprint All-Star Race winner Jamie McMurray got the worst of the damage when his No. 1 Chevrolet hit a large chuck of concrete, sending it flying and sending his car into the outside wall.
McMurray was running in the top 15 at the time, but was forced to sit on pit road with extensive damage under the red flag.
"When we ran over the track and exploded the track, we kind of broke our splitter in half and broke the pan out from under the car," McMurray's crew chief Keith Rodden told FOX Sports. "It hurt the right side a little bit also, then we got into the wall."
NASCAR and track officials quickly went to work assessing the damage to the racing surface, using cement to patch the holes.
In addition to the damage to McMurray's car, a piece of the concrete flew up and hit the cross-over gate that spans the track. Track officials also worked to duct-tape a pane of glass on the bridge that was cracked as a result of the contact.
This is not the first time NASCAR has been forced to red flag a race to repair a racing surface.
The 2010 Daytona 500 was halted when the track came up in Turn 1 during the race. NASCAR officials went through the NASCAR garage collecting all the epoxy they could find to make that repair.
The concrete corner at Martinsville Speedway also broke apart during a 2004 Sprint Cup Series race. Jeff Gordon, who was running second to Dale Earnhardt Jr. at the time, made hard contact with the chunk of track, ruining his day.
Sunday's race was red flagged for a total of 22 minutes, 22 seconds while repairs were made to the racing surface.