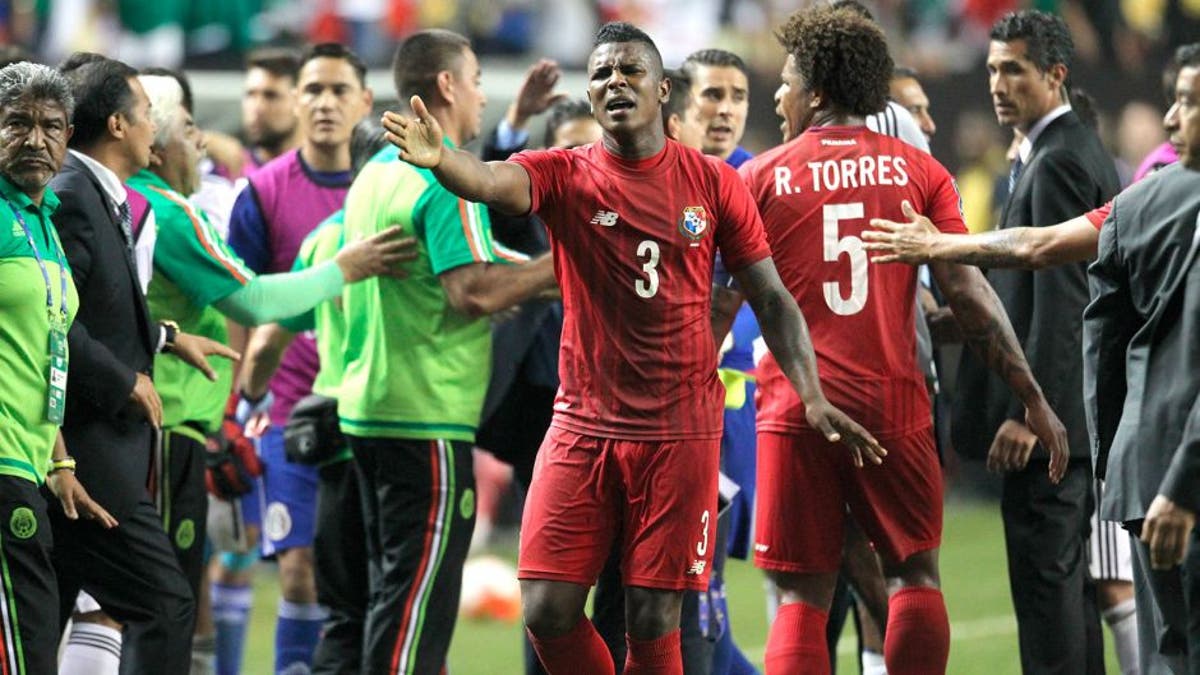 CONCACAF is investigating the events that took place during and after Mexico's controversial 2-1 extra-time win against Panama in Wednesday's Gold Cup semifinal.
American referee Mark Geiger whistled a penalty late in the second half that allowed Mexico to equalize from the spot to send the semifinal to extra time. Andres Guardado converted a second penalty to put Mexico into the final. Mexico manager Miguel Herrera said after the match that he agreed with the general consensus that the initial call, a handball in the box for falling defender Roman Torres, should not have been made.
After the final whistle, a number of Panamanian players charged at the referee with images appearing to show defender Angel Patrick kicking out at Geiger.
The Panama team also was shown in photos circulated on social media displaying a banner reading "CONCACAF thieves" with the word "corrupt" repeated on each of the banner's three sections. Panama's FA later released a statement demanding the removal of the members of the CONCACAF Referees Committee.
"CONCACAF Disciplinary Committee is currently reviewing all information regarding the incidents that took place during and immediately following the 2015 Gold Cup semifinal match between Panama and Mexico," CONCACAF said in a written statement. "The Committee will conduct an investigation according to CONCACAF Statutes and 2015 Gold Cup Regulations and determine whether any disciplinary action should be taken."
The Gold Cup regulations state the disciplinary committee can "[a]dmonish, sanction, fine, suspend and/or disqualify the national teams, their players and/or officials," and also keep players from playing in a number of matches in tournaments organized by CONCACAF.
Pedro Chaluja, the president of Panama's FA, also requested a review of officiating irregularities.
FOXSoccer.com and Goal.com have teamed up to bring you the best in world soccer coverage. Visit Goal.com, and follow them on Twitter and Facebook.
More from Goal.com:
Goal Posts - Daily LIVE soccer blog