CONCACAF Gold Cup: US Beats Jamaica, Advances to Semifinals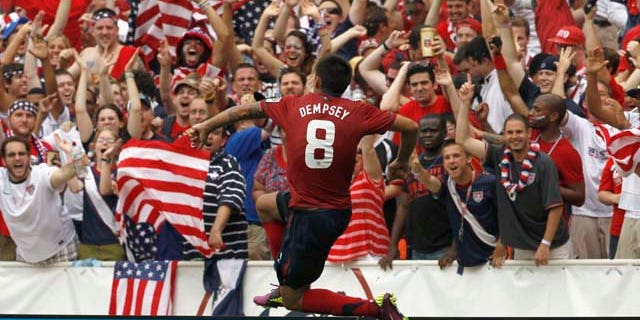 WASHINGTON, D.C. – Years from now, there may be tales of how Clint Dempsey and Landon Donovan came back from their sisters' weddings, walked off their charter planes in tuxedos, put on their U.S. National Team jerseys and helped the Americans defeat the undefeated Reggae Boyz of Jamaica in the CONCACAF Gold Cup quarterfinals.
But this story does not need any embellishments. It's pretty remarkable as it is.
After all, how often do two standout players miss three days of training in their confederation's tournament and not only play in the game but have a key role?
Hmmmm, let's see. This is probably a first.
Dempsey scored the insurance goal in a 2-0 victory. Donovan played less than half the game, but helped out as well.
Donovan and Dempsey were given permission by coach Bob Bradley to miss three days of training prior to the match to attend their sisters' weddings in California and Texas, respectively. Both players returned via charter flights set up by U.S. Soccer.
Dempsey flew into D.C. at 2 a.m. Sunday, while Donovan arrived at 7:30 a.m. – just 7 1/2 hours before kickoff.
Bradley's decision stirred controversy in the American soccer community. Should he or should he not allow the two players to miss vital preparation for a match in a tournament that leads to a berth in the 2013 FIFA Confederations Cup in Brazil, a year prior to the World Cup?
A difficult question, indeed.
"There are times that players come to you with personal requests," Bradley said. "As a coach you have an idea of how you think things should be done. That's especially true at the national team. You try to hold the bar as high as you can.
"At the same time, you understand what families mean to them. You have to sometimes weigh things and make decisions," he added. "Ultimately, after speaking at different points with Clint and Landon, I knew how important both of these days were for them. There's give and take. You always try to do what's best for the team, and you make tough decisions."
Whether it was a hunch or a gamble, it worked out quite well for the U.S.
Donovan couldn't go the full 90 and replaced Alejandro Bedoya in the 65th minute.
"When you make decisions on a lineup you size up all sorts of things," Bradley said. "It's been a busy stretch for Landon and we felt with the afternoon game it made sense to use him as a reserve today, knowing that we could bring him on and he would give us a lot. In Clint's case, we thought he could go from the beginning."
Dempsey was determined to play well and contribute.
"I just wanted to pay back the U.S. team for letting me go to my sister's wedding and come out with a good performance and not let the travel be an excuse, rather it be motivation to come out and to fight harder," Dempsey said.
Before the game Dempsey said that Bradley asked him, "'How are you feeling.' I said 'I'm ready to go.'
"I was disappointed with my performance against Guadeloupe, that I wasn't able to finish the chances that I got," Dempsey continued. "I wanted to make sure that I came out today and did whatever I could to help the team win, and I was able to get the goal that sealed it. "
Dempsey hails from a close-knit family from Nacogdoches, Texas. He grew up living in a trailer park. His parents made sacrifices for their children, sometimes driving Dempsey three hours to Dallas to play in a soccer game. He wasn't going to miss the wedding.
"My sister, she's important to me, you know?" he said. "My family is very important. I'm going to go make sure that I'm there for her on that day. Without my family I wouldn't be here.
"They sacrificed a lot for me, for my sisters, my brothers. For my mom and dad, those trips to Dallas and stuff like that, it was a lot of sacrifice," he continued. "So I was going to make sure that I could be there. I was going to use that as motivation to come out here and let that not be an excuse for taking away from my game. I thought I was able to play like I always play."
After the wedding the Dempsey family traveled to the cemetery to where his older sister Jennifer, who died from a brain aneurysm in 1995, was buried. Crystal laid her bouquet on Jennifer's tombstone.
"That was a special moment that I got to share with my family," he said. "I was glad I was able to get back and come and help the team win."
Dempsey did his best, getting several opportunities to score. But he couldn't convert his chances, whether it was forcing goalkeeper Donovan Ricketts to parry his 35-yard free kick in the 36th minute or sending a bicycle kick in the penalty over the crossbar four minutes later.
Finally, in the 80th minute that changed.
Forward Juan Agudelo, who replaced the injured Jozy Altidore (left hamstring strain) in the 12th minute, sent a right-wing feed into the middle of the penalty area. Ricketts slid to block Dempsey, who tapped the ball in from three yards in the 80th minute for his 21st international goal.
Dempsey, who had botched five golden scoring opportunities in the 1-0 win over Guadeloupe in the Group C finale on Tuesday, has just happy to have found the back of the net.
"Just getting that off your back after the last game," he said. "Just the fact I missed so many chances. I had to keep picking myself up after a bad situation that happened. I rise above it and was able to chip in with a goal. That's the most important thing."
The Americans dominated the match as they imposed their will on the Jamaicans.
"We just played good football. We were patient. We were confident," Dempsey said. "We moved the ball around well. We made it difficult for them to play out of the back. We were able to find players in-between their lines. We were able to create chances for ourselves.
"The mentality of keep going, keep pressing them, keep taking the game to them," he added. "Eventually we wore them down."
The U.S. will play Panama in the semifinals in Houston on Wednesday before Mexico faces Honduras in the second game of the doubleheader. The Panamanians got past El Salvador in the other quarterfinal on Sunday, besting their Central American rivals, 5-3, in a shootout after playing to a 1-1 draw.
As it turned out, Luis Tejada giveth and he taketh away.
The Panama striker connected for the 11th-hour goal in Panama's 1-1 draw with Canada that gave the Canadians the boot from knockout round contention, but opened the door for the Salvadorans.
On Sunday, Tejada toyed with the Salvadorans even more. He pulled heroics with a 90th-minute goal and converted the game-winning penalty kick in the tie-breaker.
Tejada and Blas Pérez were major headaches the first time these the U.S. and Panama met in a group stage game in Tampa on June 11. Panama secured a 2-1 upset win in that encounter, snapping the U.S.'s 26-game first-round unbeaten streak in the Gold Cup.
Pérez won't have a say this time as he will miss the game due to a suspension for a red card he incurred in the 91st minute on Sunday.
"This time it's going to be very different from the match we played in the previous stage," Panama coach Julio Cesar Dely Valdes said. "It will be very complicated."
Before he knew his semifinal opponent Bradley, talking about the possibility of playing Panama again, said he was "certainly excited for with a rematch."
It's not very often a team gets a second chance at a foe in an international soccer tournament.
Then again, it's not very often you accomplish what Clint Dempsey did over the past few days.
Michael Lewis, who has covered international soccer for three decades, is a frequent contributor to Fox News Latino. He can be reached at SoccerWriter516@aol.com.