Comeback: Gordon shows he has resiliency and performance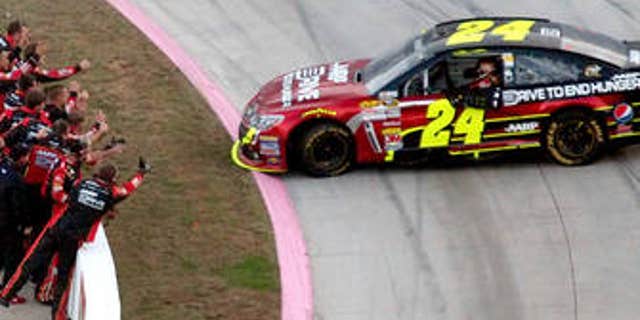 When the field for the Chase for the Sprint Cup was originally set, Jeff Gordon was on the outside looking in. Then when the penalties came down from NASCAR on Michael Waltrip Racing following Richmond, Jeff was included into the Chase as the field was expanded to 13 cars.
Now after his victory Sunday at Martinsville, Jeff has finally gotten his first win of the season and has fought his way to third in the points.
If you look at the highs and the lows of that No. 24 team this season especially there at the last race of the regular season, the spot they now find themselves in is pretty phenomenal.
Actually, the ups and downs have been the same story for that team for the last two years. Think about this, the No. 24 has had five DNF's this year and they still made the Chase. That says a lot about their resiliency and performance.
If you look at Jeff's Chase run so far in 2013, his worst finish was 15th at New Hampshire but he actually had a top-five run going there. He just didn't have enough time left in the race to recover from his miscue of sliding through his pits.
He only garnered a top-15 finish at Talladega two weeks ago, but other than that, he's been right up front putting points on the board and now after yesterday has the win.
So now Jeff finds himself all the way up to third spot. That's the good news. The bad news is he is 27 points out of first place and there are only three races to go. That means he'll have to average making up nine points a race. That's difficult in itself, but then he is going to have to beat both Matt Kenseth and Jimmie Johnson by nine points a race and that is a pretty steep order.
Is it possible? Sure it is possible but probably not realistic. No matter what happens in these next three races, Jeff and that No. 24 team have to be so proud of all the obstacles they have overcome this season to be where they are right now. They really have accomplished a lot.
The original article can be found at FOXSports.com: Comeback: Gordon shows he has resiliency and performance.