Combine gives us rooting interest in Peyton Barber, who's turned pro since mom is homeless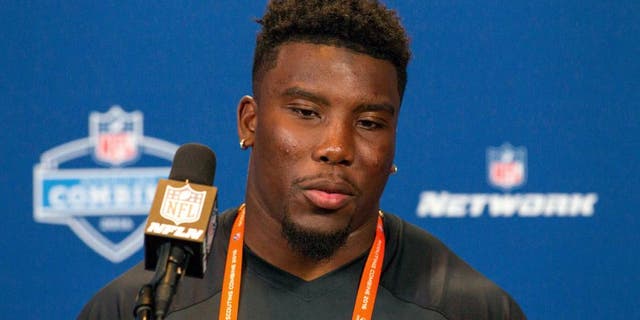 There are those college football players leaving school early for hopeful NFL dollars instead of getting their degrees.
And then there is Peyton Barber.
The Auburn Tigers running back declared for the NFL Draft after his junior season, despite not being expected to be selected in the first two rounds. In other words, he won't be getting the mega-millions in signing bonus money or any guaranteed first-round contract.
Why not stay in school, advance toward a degree and possibly improve his draft status for next spring? He explained Wednesday at the NFL Combine in Indianapolis.
Wow.
What is striking is how positive he seems to be about his uncertain situation.
According to the Charlotte Observer, Barber's mother, Lori, has been living with his sister -- which was apparently the deciding factor as to whether or not Peyton would go pro this year.
Per an AL.com profile last week (h/t The Big Lead), Barber understands the long odds he faces -- especially at the RB position, one that has seemingly been devalued in recent seasons -- and called it "a tough decision, if not the toughest decision I've ever had to make in my life."
Barber rushed for 1,017 yards last season, solid numbers at a big-time SEC school. The Observer reports that Barber's ex-teammate at Auburn and close friend, Carolina Panthers RB Cameron Artis-Payne, inked a four-year, $2.45M deal after being a fifth-round pick a year ago. Scout.com ranks Palmer 17th among RBs entering this year's draft, and No. 256 overall -- which potentially puts him in Mr. Irrelevant territory.
But to his family, he is quite the opposite. It's a sobering reminder that some of the young men who play college football carry more than just boyhood NFL dreams -- but often also the hopes and burdens of trying to lift their families out of poverty.
Best of luck to Barber and his family.