Combat vet who served tours in Iraq, Afghanistan cleared to join Clemson football team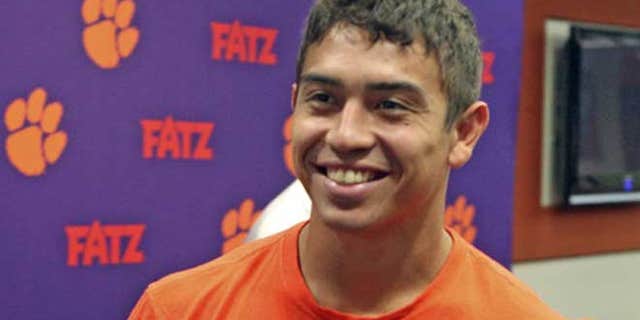 CLEMSON, S.C. – Daniel Rodriguez is about to fulfill a dream, and more importantly to him, keep a promise to a brother-in-arms.
Rodriguez found out this week he had been cleared by the NCAA and the Atlantic Coast Conference to join Clemson's football team as a walk-on receiver.
Once Rodriguez trots onto the practice field Friday in his orange No. 83 for Clemson's first practice, he'll complete a transformation from a struggling teenager to a young man who's achieved his goal after witnessing some of the most horrific fighting in Afghanistan.
"It's been kind of long journey," he said Wednesday.
Rodriguez played football at Brooke Point High in Stafford, Va., but acknowledged he let his parents' divorce and problems at school get the better of him. When his father Ray, died four days after graduation, Rodriguez was devastated and seeking a way out. He chose the Army.
"I went to the recruiter and said, `Get me away from here,"' Rodriguez said.
Rodriguez served in Iraq during the troop surge of 2007. On his second tour, he found himself in Afghanistan and in the line of fire during one of the war's bloodiest fights, the battle of Kamdesh in October 2009.
Rodriguez said close to 400 Taliban combatants overwhelmed the U.S. outpost of fewer than 40 soldiers. Eight Americans were killed, including Rodriguez's friend, Pfc. Kevin Thompson.
Just a few days earlier, the two young men shared their dreams of what they'd do after returning home. Thompson made Rodriguez promise to chase his goal of playing college football.
Rodriguez left Kamdesh with shrapnel in his leg and neck, and a bullet fragment through his shoulder. He was awarded the Bronze Star Medal of Valor. He also received a Purple Heart and was promoted to staff sergeant before an honorable discharge in 2010.
With Thompson's words a guiding force, Rodriguez began punishing workouts after he got home that often went six hours a day to get himself in football shape. Another friend taped the regimen to catch the interest of college coaches, placed it on YouTube and "it went viral," Rodriguez said.
He received inquiries from about 50 schools, including from Clemson and coach Dabo Swinney.
Swinney, a walk-on at Alabama who eventually became a scholarship receiver, saw a kindred spirit in Rodriguez and was eager to give him a chance. Not that it was easy.
Rodriguez's home state schools of Virginia and Virginia Tech contacted him, too. Virginia said his grades were not good enough to enroll while Rodriguez said Virginia Tech wasn't eager to move forward with getting waivers from the NCAA and ACC for him to play. Swinney said the Tigers would give it a try.
"There was a lot of paperwork and Clemson was willing to do that," Rodriguez said. "I'm grateful to them."
Swinney is happy to have Rodriguez on his sideline. "He is getting the opportunity to follow his dream," the coach said. "We are excited to have him join our program. I have no doubt that he will become a great leader for us."
Rodriguez returned from combat diagnosed with post-traumatic stress disorder. "I don't think any one of us who came off that mountain didn't," said of Kamdesh. He went to therapy, something he said wasn't for him. Rodriguez chose to work out his issues through training, doing 200 pull-ups, pushups and sit-ups each day. He's run the steps at Clemson's massive Memorial Stadium in a military gas mask to increase his fitness.
He began classes earlier this year and is majoring in political science. He hopes to get into the sports training field. When people learn of his military background, Rodriguez gets the typical questions about his service from curious college students and Tiger teammates. Rodriguez answers as honestly as he can.
"I'm using the hardships, the horrors, the killing, the friends that I've lost as my fuel to (get) where I want to be," he said. "So I think if you can turn and manipulate anything negative in your life and use it as something good, that's what I've taken into my life."
Rodriguez said he's kept Thompson's mother updated on his progress. "She's pretty excited," he said.
Rodriguez understands he's not anything unique. South Carolina has had a pair of ex-military men walk on and find a spot on its football team the past decade in ex-U.S. Army Ranger receiver Tim "Pops" Frisby and long snapper Matt Grooms, who served four years in the Marine Corps.
Florida State basketball center Bernard James served six years in the Air Force before playing for the Seminoles. He was picked by Cleveland in June's NBA draft and later traded to Dallas.
Rodriguez, at 5-foot-8, also knows his biggest impact for Clemson might come behind the scenes instead of on the field where he unlikely to supplant stars like Sammy Watkins and DeAndre Hopkins.
"I'm not this high-scouted athlete expected to change this program," Rodriguez said. "I'm just a cog on the wheel that's going to play my role and better the team from an individual standpoint and give insight from what I've been through as a person. If I can help mold some of these guys in the locker room to have the same perspective on life I have, that's a benefit."