Column: OSU's Gorden Gee is Exhibit A for why school presidents can't run college sports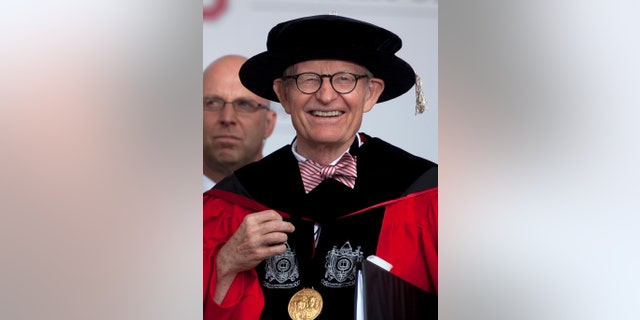 Ohio State's Gordon Gee is Exhibit A for why university presidents can't be trusted to run college sports.
Consider his career arc. A dozen years ago, Gee was being hailed as a reformer. Now he's just another fanboy.
And as this latest foot-in-mouth moment reminded us, a far-too-comfortable fanboy who still doesn't know when to stop talking.
Gee's latest gaffe was almost too predictable. He not only shares the us-against-the-world view of the most rabid Buckeye fans, he's increasingly determined to share that view with the public. Gee did it again last December in remarks to the school's Athletics Council that were reported Thursday, after The Associated Press obtained notes and a recording from the meeting under a public records request.
In a matter of just minutes, he slammed "those damn Catholics" who run Notre Dame athletics as untrustworthy, dismissed Louisville and Kentucky as schools academically unworthy of joining the Big Ten Conference, and suggested the Southeastern Conference should devote more of its resources to teaching reading and writing skills.
"The comments I made were just plain wrong, and in no way do they reflect what the university stands for," Gee said in a statement to the AP. "They were a poor attempt at humor and entirely inappropriate."
And not for the first time, either.
Gee has always had an eye for the colorful quote. When he became chancellor at Vanderbilt a dozen years ago — after stints at West Virginia, Colorado, Ohio State (the first time) and Brown — he'd already seen firsthand how a grab-the-cash mentality was threatening the integrity of both big-time sports and the schools that competed at them. So he "declared war," getting rid of the athletic director's job and taking back some of that department's power. In the midst of the effort, Gee ran into plenty of resistance, even joking at the time, "I've always said that if I tried this at Ohio State, I'd be pumping gas in my hometown of Vernal, Utah."
But by the time Gee arrived at Ohio State again in 2007, he'd apparently decided not to try that hard.
He's had a hard time living down what he said after a scandal erupted over OSU players selling memorabilia for cash and tattoos — a mess that was compounded when the NCAA subsequently learned that then-coach Jim Tressel knew about the scheme and lied trying to cover it up. At a news conference announcing a suspension for Tressel (who later resigned under pressure), someone asked Gee whether he'd consider firing his coach.
"No, are you kidding me?" Gee replied. "Let me be very clear. I'm just hoping the coach doesn't dismiss me."
He wasn't kidding at the time, and here's why: Like more than a few of his peers, Gee figured out somewhere along the trajectory of his career that a university president could live like a sheik by raising huge sums of money for his school; and while the football team generates less than 1 percent of OSU's total budget, it garners nearly all of the attention.
So he became the Buckeyes' biggest cheerleader, a see-no-evil monarch who spares no expense to spread the gospel.
For a full description of how large Gee lives as OSU president, search out a story last Sept. 22 from the Dayton Daily News, which spent nearly a year requesting public records from the university. Gee is not only the highest paid CEO of a public university — pulling in $8.6 million in salary and compensation since 2007 — he's also put in for another $7.7 million in expenses.
He lives in a 9,600-square-foot mansion on 1.3 acres, "stays in luxury hotels, dines at country clubs and swank restaurants, throws lavish parties, flies on private jets and hands out thousands of gifts — all at public expense," the newspaper found. Over that same period, Gee spent more than $64,000 on bow ties (he owns upward of 2,000), bow tie cookies and O-H and bow tie pins to distribute.
"I don't expect Mr. Gee to live like a monk," Dale Butland of Innovation Ohio, a liberal think tank based in Columbus, told the newspaper. "I just don't think he should be living like Donald Trump."
Not every college president lives that way, of course. But if you're the boss of a school with a big piece of the revenue pie that is college sports these days, chances are good you aren't staging bake sales to get by, either. While Gee is hardly the only member of the fraternity who's displayed excessive loyalty and questionable judgment trying to prop up his sports programs, he's practically made himself the poster child for the problem.
That wasn't what anyone had in mind little more than a decade ago, when university presidents wrested control of the NCAA from their athletic directors and conference commissioners with a promise to halt runaway spending and reform big-time sports. Talk about wolves in sheep's clothing.
___
Jim Litke is a national sports columnist for The Associated Press. Write to him at jlitke(at)ap.org and follow him at Twitter.com/Jim Litke.