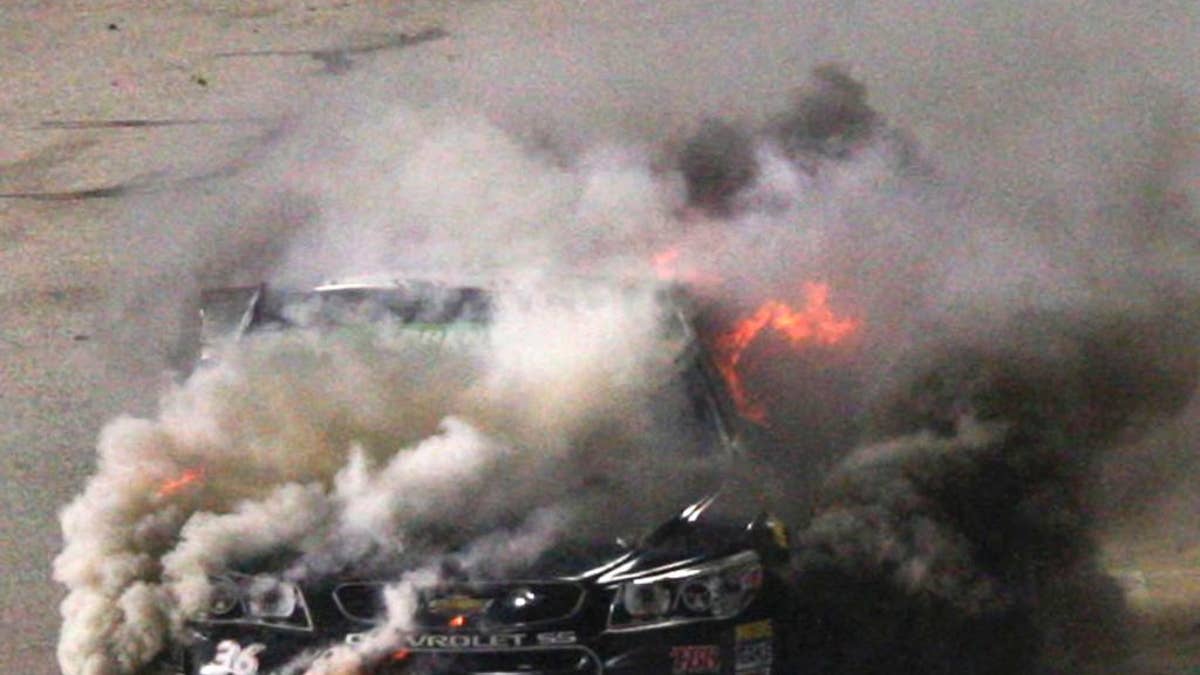 CHARLOTTE, N.C. – Quick quiz: Who won the 1979 Daytona 500?
The answer, of course, is Richard Petty.
But very few people — if any — equate that race with "The King" grabbing the sixth of his seven Daytona 500 victories. That race is instead infamous for the last-lap crash between Donnie Allison and Cale Yarborough as they raced for the lead. The crash sparked a three-man fight after Allison's brother, Bobby, pulled up to the accident scene.
The brawl in the closing moments of the first race to be broadcast live in its entirety was a monumental moment for NASCAR, and the lasting image as the traditionally Southern sport officially announced its arrival on the national scene.
Fast forward 35 years later to Saturday night at Richmond International Raceway, where tempers flared after the race. It seemed much ado about nothing when Brad Keselowski stomped down pit road to angrily wag his finger at Matt Kenseth in a scene that was just enough to keep viewers from changing the channel, but not enough to generate any real excitement.
Then things got really interesting.
An overhead camera happened to catch Casey Mears confronting Marcos Ambrose in the garage. About? Who knows. The two were racing each other for 18th place and Fox hardly had its cameras tuned to that battle.
But something happened between the two to get Mears upset, and his anger only grew as Ambrose seemed to dismiss him and turn away. So Mears grabbed the Australian, shoved him a bit and Ambrose responded with a right hook to Mears' eye. It was hard enough to draw blood and knock Mears' hat from atop his head.
NASCAR is reviewing the incident and considering whether to discipline either of the drivers in its Tuesday penalty notices.
If the sanctioning body is smart, it will close the file and move on to Talladega without taking any action against either driver.
Forget for a minute that it was a fight that put NASCAR on the national map, and that hard-scrabble, passionate drivers who aren't afraid of confrontation are the bedrock of the sport. To this day, it's those incidents that generate the most conversation. Joey Logano's late pass of Kenseth, Keselowski and Jeff Gordon to win the race didn't garner many national headlines on Sunday, but Ambrose's shot to Mears' face most certainly did.
The decision to leave Ambrose and Mears alone isn't about the attention that a fight draws to the sport.
It's about short-track racing on a Saturday night and the emotions that come from driving hard on tight tracks and in close quarters. Fans watch Bristol and Martinsville and Richmond fully expecting to be treated to bumping and banging and the post-race confrontations that come from explosive tempers.
The incidents are celebrated and find their way into promotional materials for the tracks and NASCAR itself.
Taking that into account, Mears can't be punished for confronting Ambrose after the race. Something happened on the track that infuriated him enough to seek out Ambrose.
That conversation happened to take place in the garage, NASCAR's version of the office place, and it happened in a flurry of frenetic, post-race activity. Drivers return their cars to the haulers after the race, and at Richmond, the haulers are lined up in tight quarters. Crews are working furiously to pack up the car and the equipment, fans are milling about trying to chase down their favorite driver, reporters are rushing to seek out interviews before the parties slip away in the darkness.
In that setting, Ambrose was grabbed and then shoved by a fellow driver. He reacted violently with a punch that might have startled Floyd Mayweather Jr., let alone Mears.
Should Ambrose be punished for defending himself? For reacting in a heated moment? Absolutely not. It wasn't a sucker punch, it didn't put any crew members or fans in danger, and Mears himself seemed to take it in stride.
The morning after he was punched, Mears ran in Jimmie Johnson's charity race and acknowledged Ambrose "got me pretty good with that shot" in an interview with NASCAR.com.
"Out of all the NASCAR fights or punches or when you see people swinging, usually it's a lot of fly-swatting. He actually connected so that was pretty good," Mears said. "Everybody gets mad after those races when everybody is trying so hard. It's a passionate sport, obviously. It's tough when you first get out of the car, when you don't have a good chance to cool off, it escalates pretty quick."
Indeed, the culture of short-track racing is an expectation of post-race fireworks.
Unless NASCAR wants to remove that element and expectation, it should leave Ambrose and Mears alone.