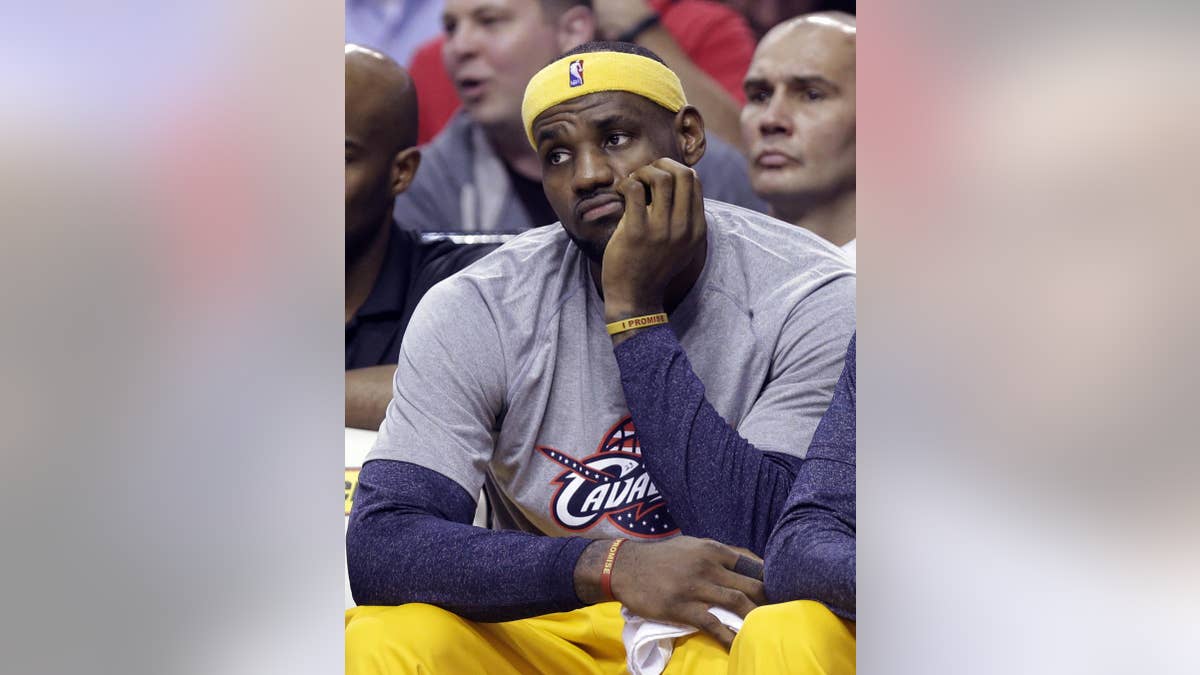 LeBron James is right.
Everyone needs to RELAX.
The Cleveland Cavaliers are going to be just fine.
But it's going to take time.
James and his latest version of the Big Three are still a work in progress, which was evident as they lost three of their first four games.
Not surprisingly for a team that's already been anointed as the next NBA champion, the slow start sparked an immediate stream of conjecture over just what's wrong with the Cavs. The diagnosis ranged from James playing too passively as he adjusts to a new set of teammates (guilty as charged) to the King not getting along with point guard Kyrie Irving (a run-of-the-mill disagreement has surely been blown waaaaay out of proportion).
James took to Twitter, hitting the all-caps button for emphasis.
He, better than anyone, knows it's far too early to hit the panic button.
Let's not forget: When James and Chris Bosh signed with Miami in 2010, joining Dwyane Wade to turn the Heat into a supposedly unbeatable juggernaut, that version of the Big Three lost eight of its first 17 games together.
James, Irving and Kevin Love will likely take even longer to mesh.
"It's a message for everyone to understand how important the process is," James said, when asked about his tweet during Friday's shootaround in Denver. "Everyone wants overnight success. It just doesn't happen when teams first come together."
The most pressing issue for the Cavs was tightening up when they don't have the ball. Heading into Friday night's game at Denver, they had surrendered 101.5 points a game (23rd overall), not exactly the sort of defense expected from a championship-level team. Only two teams were allowing opponents to make a higher share of their shots than Cleveland, which was giving up a whopping 49.5 field-goal percentage.
The Knicks made nearly 54 percent in their opening-night win at Cleveland; they were shooting less than 42 percent against everyone else. Utah knocked down more than half its shots (39 of 77) while beating the Cavaliers on Wednesday night, the first time the Jazz had eclipsed 50 percent in a game this season. The Portland Trailblazers shot significantly better while beating LeBron & Co. (49.3 percent) than they had against their other opponents (a cumulative 44.2 percent).
James has long been one of the league's top defenders, but he must get some help from Love and Irving. If not, the Cavs are unlikely to get out of the Eastern Conference, much less win long-suffering Cleveland's first championship — in any sport — since the 1960s.
Not to get too far ahead of ourselves, but the Cavaliers may have to go through a postseason disappointment or two before they finally win it all.
That's usually the way it's done.
Detroit had to get over a pair of excruciating defeats to Larry Bird and the Boston Celtics before the Bad Boys finally broke through to win the first of two straight titles in 1989. During both of those title runs, the Pistons knocked off Michael Jordan and the Chicago Bulls in the Eastern Conference finals. MJ, of course, used the motivation from those defeats to win a half-dozen championships.
Even the Heat lost in their first trip to the finals with a Big Three, beaten by the Dallas Mavericks in 2011. James, Wade and Bosh closed out their four years together with a crushing loss to San Antonio in last season's championship round.
Now, James is teamed with Love and Irving, who are undoubtedly two of the league's best players but don't have the same life experiences — not yet anyway — as the last Big Three.
Wade already had a championship on his resume before he played a minute with King James. Bosh had appeared in a couple of playoff series for Toronto before he signed with the Heat.
Love and Irving have never been to the playoffs.
Never even played for a winning team.
Irving spent his first three years as the top player on Cleveland squads that were a combined 74 games under .500. Love endured even more frustration during six seasons in Minnesota, essentially a one-man team as the Timberwolves struggled through 160 more losses than wins.
Both are used to putting up gaudy numbers, with little feedback or criticism for the flaws in their games.
Now they're playing with King James, who is the undisputed star.
Love and Irving are the supporting players, and how quickly they adapt to less-glamorous duties — playing tough defense, pounding the boards, doling out assists — will go a long way toward determining how long it takes the Cavaliers to win a championship. Consider Wade and Bosh, whose strong play in the early going this season shows just how much of an ancillary role they played while LeBron was around.
Irving, for instance, can't go through a stretch where he's taken 36 shots since his last assist (as was the case before Friday's game against the Nuggets).
"This team can be as good as it wants to be," James said. "But we can't short-cut the process along the way."
Maybe he should've added another word to his "RELAX" tweet.
Patience.
___
Paul Newberry is a national writer for The Associated Press. Write to him at pnewberry@ap.org or www.twitter.com/pnewberry1963