Column: Ferguson partly to blame for making him such a hard act to follow at Manchester United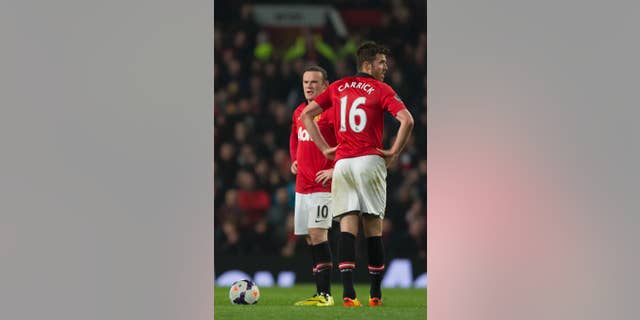 When David Moyes strode into Old Trafford for the first time as Manchester United's new manager, with its long red tunnel leading to the pitch where so much sporting history has been made, he knew the job of replacing Alex Ferguson would be, as he now says, "tough." Few imagined it would be this tough.
Ferguson, as well as Moyes, his underperforming millionaire players and club owners who spent too little to keep the team topped up with sufficient fresh talent, all share the blame for United's worst ever season in the Premier League. The championship-winning squad Ferguson left for Moyes after 26 years in charge at United has come to resemble a sweatshop-made toy: The packaging seemed OK, but it quickly fell apart after Moyes started to play with it.
In the first possible signs of open revolt, English newspapers reported that angry fans berated Ferguson, who watched from the stands, after Manchester City dismantled United on Tuesday night. Even more impressive than City's three unanswered goals were its inventive and muscular attacks that exposed how United has stagnated while better teams in England and Europe spent heavily to grow stronger.
As if to prove that point, United's next opponent in the Champions League, Bayern Munich, set a new milestone of dominance in German football, winning the Bundesliga title on Tuesday with a record seven games to spare, while Moyes' men drowned under waves of City blue.
Instead of the winning habits Ferguson drilled into his teams of fighting for victory to the bitter end, United now looks vulnerable from the first whistle, the question less whether the team will ship goals but when and how many. When Edin Dzeko scored for City inside 43 seconds, data crunchers Opta noted it was the first Premier League goal United has conceded at Old Trafford inside the first minute.
In a television commentary box, Paul Scholes grimly reminded everyone, simply with his mere presence, how the team he served so admirably in 718 appearances in the United midfield is now a shadow of its former self, lacking speed in attack and the self-belief Ferguson demanded. That Scholes used to be so notoriously press-shy and sparing with words made his criticisms seem more venomous than he probably intended. But there was no arguing with his conclusions.
Under Ferguson, "we could be two or three (goals) down but we never felt we were beaten," Scholes said. But after Dzeko's goal, "I never really felt that we were going to get back into this game."
The 10th league defeat in Moyes' debut season is more than any of Ferguson's teams managed in the Premier League era. Even if it wins its last seven games, United can score no more than 72 points, another Premier League low for the club.
Old Trafford used to be an intimidating and unrewarding place for visiting teams. United lost a total of just six league games there in five seasons from 2006 to 2011. This season, the fortress gates have been busted open, with six of United's losses coming at home.
"We have to put that right and make this a place teams fear again," said striker Wayne Rooney, the only player in United red who acquitted himself half-decently as City stormed through gaps all around him.
Expectations at Old Trafford are that Moyes will be given at least 100 million pounds (euros 120 million) to spend at season's end on players the club has already identified and targeted.
Despite the growing likelihood that it won't qualify for Champions League football next season, United has sufficient money and the residual glow of the trophy-filled Ferguson years to attract top players. United isn't running on fumes: Rooney and Robin van Persie up front are a world-class duo. But Ferguson's legacy to Moyes was a team that had peaked, is unbalanced and now needs major spending to arrest its fall.
As Scholes suggested, United hasn't replaced him with a midfielder of his caliber. United also needs replacements for defender Nemanja Vidic, leaving for Inter Milan, and — seemingly sooner rather than later — for 35-year-old Rio Ferdinand and 32-year-old Patrice Evra.
"It looks to me like there's a few areas that need addressing," Scholes said. "Center midfield, yeah, you could say they've been looking for that for quite a few years now and maybe haven't quite come up with the answer."
"Defensively as well," he added. "Vidic is going. It looks like Rio and maybe Evra is going as well. That's three of your back four gone."
United can't ditch Moyes. Doing so would reflect poorly on Ferguson, who picked him, and his legacy.
Just as United stuck with Ferguson at the rocky start of his tenure and waited for changes he made to bear fruit, the club seems determined both publicly and privately to back Moyes and not chop and change managers as billionaire owner Roman Abramovich has done so frequently at Chelsea.
But Moyes has to make the rebuilding succeed if the United job and cleaning up after Ferguson is to be the high watermark of his career and not the treacherous reef that shipwrecks him.
___
John Leicester is an international sports columnist for The Associated Press. Write to him at jleicester@ap.org or follow him at http://twitter.com/johnleicester