Column: Down but not out, Wayne Rooney can still surprise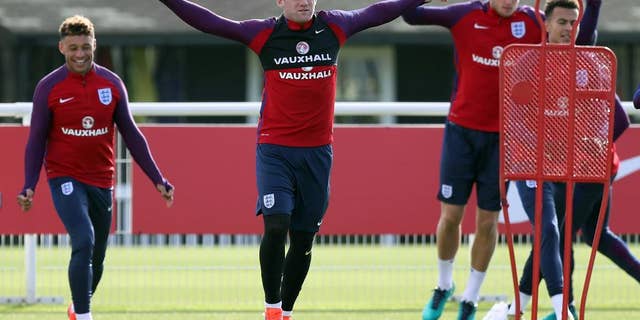 PARIS – There is no such thing as the beginning of an end. An end is just an end. However short, the period until that finality remains one of possibilities, as Wayne Rooney will prove.
Taking their cue from interim manager Gareth Southgate's decision to drop Rooney from England's starting XI for its 2018 World Cup qualifying match against Slovenia on Tuesday, some observers are now prematurely digging the 30-year-old's footballing grave, predicting that his time is running out.
It doesn't take a genius to argue that age, the wear-and-tear of nearly 700 appearances for clubs and country and the displacement of older players by younger ones will, in the not unforeseeable future, combine to permanently sideline Rooney. Like weathermen who predict rain, those now pointing to that writing on the wall are bound to be right, eventually.
But there are compelling footballing and sentimental reasons to both hope and believe that between now and the inevitable, Rooney will still surprise.
First, the football.
It has for several seasons been clear to all, including Rooney, that he no longer has the scything speed that made him such a bulldog forward in his younger days and that he is increasingly struggling with football's ever-quicker tempo, notably in England's Premier League.
But by recognizing and accepting a variety of retooled roles for himself in the England and United midfields and on their benches, Rooney has shown intelligence, pragmatism, adaptability and no shortage of guts. Embarking on what is, essentially, a second career further down the pitch was never going to smooth. It hasn't been made any easier by the unsettling managerial churn at both United and England.
On off-days, Rooney looks ponderous and a brake on, not a creator of, attacking momentum for his teams, unable to play box-to-box for extended periods or create enough goal-scoring chances for others.
But on good days, which he still has, Rooney's sweet passes, industry, tactical brains and leadership make him an undeniable asset. Even though Southgate and, at United, Jose Mourinho may no longer think first of Rooney, his enduring value is proven by the fact they still want him on their benches when not in their starting lineups.
There is no shame in that. That the all-time top scorer and most-capped outfield player for England and soon-to be top scorer for United (he is just three goals shy of Bobby Charlton's record of 249) is willing to play cameo roles is the mark of a player who puts the team before himself.
By sharing his experience with younger players and imposing his maturity on the dressing room, qualities that Southgate described as "gold dust," and by shielding teammates from some of the intense media spotlight that so often unsettles the England team, Rooney can still chip in to its effort to qualify for the World Cup in Russia and shake off the disaster of being knocked out of the European Championship by Iceland this June.
"There is no embarrassment," Rooney said. "I'll be ready to come off the bench if needed."
On the sentimental side, Rooney stands as an example of how football can help polish rough kids from rough neighborhoods, of how the game offers opportunity for youngsters to better themselves and isn't solely defined by the corrupt officials who have soiled the sport's reputation, at FIFA and elsewhere.
The kid from a grim suburb of Liverpool, as thrilling as he was to watch with the ball at his feet, long disappointed as a person. His temper was short, his moods often foul, and the headlines he generated often bad. He stomped on Ricardo Carvalho (2006 World Cup, red card) and vented to pitch-side cameras (2010 World Cup; West Ham vs. Man United in 2011, two-match ban). His stock fell so low that the town of Edenbridge in England's southeast burned a 30-foot effigy of Rooney in 2010, giving him the ears of cartoon ogre Shrek.
In short, a very different character from the poised elder statesman who accepted Southgate's decision to bench him against Slovenia with apparent good grace and insisted this was not the beginning of the end that some described it as.
"I understand this is part of football. It is something which you have to go through and I am big enough to deal with it," he said. "I have said before that I will not stop playing for England and then think of going to Dubai for a few days in the international break. I will turn up when called upon and be ready."
The fan of boxing may be down, but he is not out.
___
John Leicester is an international sports columnist for The Associated Press. Write to him at jleicester@ap.org or follow him at http://twitter.com/johnleicester. See his work at http://bigstory.ap.org/content/john-leicester