Colts' offensive line faces another test against St. Louis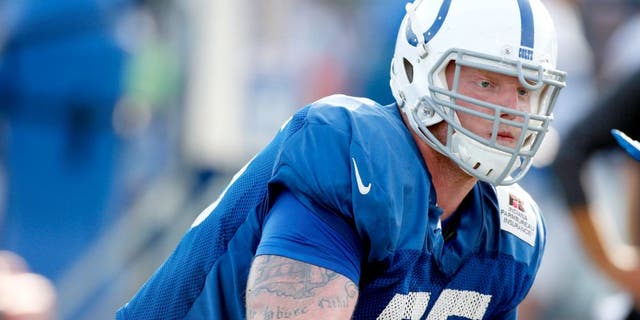 A week after a rough performance against the Chicago Bears, the Indianapolis Colts' offensive line is looking to redeem itself in Saturday's preseason game against another tough opponent in the St. Louis Rams.
The Rams' defensive line, led by Chris Long, features four players taken in the first round.
"Can't wait to see where we're at," Colts head coach Chuck Pagano said, per ESPN. "Good week of preparation. They have a great front."
Pagano said this week's game is especially important as the line looks to build momentum heading into the regular season.
"Doesn't matter who we're going against -- I know it's a really good front seven -- we want to play well," Pagano said. "We want to play better Saturday than we did last Saturday. Want to build confidence as [well] as the other things you want to do. It's important that we play well."
Saturday's matchup will also be a key test for Colts right tackle Jack Mewhort, who is taking over for the Gosder Cherilus at right tackle this season. Cherilus was released just before the starting of training camp and.
Mewhort, who played guard last season, struggled against the Bears last week, allowing defensive end Pernell McPhee to get by him on the first two passing plays.
"You have to have the confidence in yourself to do it," Mewhort said. "I've said it before, I'm my own toughest critic and I need to be able to hit that reset button and let plays go, because it's the NFL and there are a lot of great players.
"Every week I'm going to see a great player and I'm going to get beat and I've got to be able to let that go and move on and can't let it affect the next two or three or four plays. It goes back to, like I said, of falling back on fundamentals and technique and trusting that I have the tools in my toolbox to go out there and get the job done."
(h/t ESPN)