Colts' Hilton leading a cast of unknown receivers with breakout performances in playoffs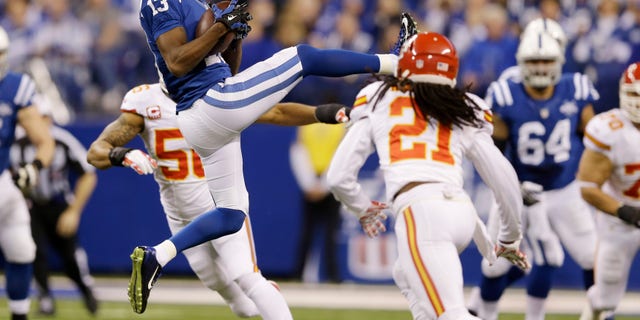 INDIANAPOLIS – T.Y Hilton's fingerprints are all over Indianapolis' resurgence.
As a rookie, he became a viable downfield option for Andrew Luck and helped the Colts reach the playoffs. This year, he emerged as Indy's go-to guy and helped the Colts reclaim the AFC South title.
Those who hadn't heard of Indy's versatile handyman before last weekend know all about him now, after Hilton put on one of the most dazzling pass-catching performances in postseason history.
"Right now I'm holding the towel for the receiver group," he said after 13 catches and 224 yards in last weekend's victory over Kansas City. "Right now, they're going through me."
The smallish receiver from Florida International insists nothing has changed over the last couple of weeks as he's become the focal point of Indy's offense.
Without Hilton's contributions last week, the Colts wouldn't have rallied from a 28-point second-half deficit to pull off their stunning comeback against Kansas City, setting up a divisional-round showdown at New England.
Hilton's big day was only the grand opening to a wild-card weekend that featured underrated or unknown receivers making bigger plays than their higher-profile teammates.
— Seldom-used Saints receiver Robert Meachem caught a 40-yard pass — his only reception of the game — to set up Shayne Graham's winning field goal at Philadelphia. New Orleans claimed its first-ever playoff road victory.
— Philadelphia's Riley Cooper, a fifth-round pick four years ago, caught twice as many passes (six) as DeSean Jackson, and Cooper also finished with as many yards receiving (68) as Jackson and NFL rushing champ LeSean McCoy had combined.
— Bengals receiver Marvin Jones, a fifth-round pick last year out of Cal, outperformed A.J. Green and Jermaine Gresham by catching eight passes for 130 yards in Cincinnati's loss.
— Ladarius Green, a 6-foot-6 second-year player from Louisiana-Lafayette, caught a 4-yard TD pass to give San Diego the lead for good at Cincinnati. Green led the Chargers with three catches for 34 yards.
"He's made the most of his opportunities," Chargers coach Mike McCoy said. "There have been certain weeks that he's had more opportunities than others. Certain weeks (the defense) is going to take certain guys away. He's done a nice job of making the plays that have been there for him."
But Hilton had the best day of the bunch.
He wound up tied for the second-most catches by any player in any NFL postseason game and the third-highest yardage total in a playoff game, too. Quarterback Andrew Luck wasn't surprised.
"You sort of come to expect it in a little way because he does it in practice," Luck said. "Yes, it's amazing, you don't want to take anything away from it, but you expect it. And I think he expects it out of himself."
Perhaps the Colts should expect it after watching Hilton these past two seasons.
Indy took in the third round of the 2012 draft, hoping to pair the 4.37-second speedster with Reggie Wayne.
It didn't take long for Hilton to prove he was more than worthy of a mid-round pick.
At 5-foot-9, and 178 pounds, he set a franchise rookie record with five 100-yard games and finished second on the franchise list in yards receiving (861). He led all NFL rookies in touchdown catches (seven) and became the first Colt to score on a punt return and a TD reception in the same game.
After spending the offseason working out with Luck, Wayne and draft classmate LaVon Brazill in Miami, Hilton entered training camp expecting to win the No. 2 job that eventually went to Darrius Heyward-Bey.
But when Wayne went down with a torn ACL in his right knee in mid-October, Hilton was suddenly in a completely different role as the No. 1 option and Luck's new favorite target.
At times, Hilton seemed perfectly suited for the job. At others, he struggled. Then, after six up-and-down weeks, offensive coordinator Pep Hamilton found a solution — moving Hilton all over the field. In his last six games, Hilton has responded with 44 catches, 562 yards and two scores.
"We feel like that's important so that teams just can't kind of game plan and scheme to take him away," Hamilton said. "So, we've challenged T.Y. early and often to understand the concepts and understand all four spots."
The problem for defenses isn't just trying to figure out where Hilton is, it's trying to defend him.
Patriots cornerback Logan Ryan has already attempted to corral Hilton once, when the two played against one another in college. He'll get another shot this weekend.
"He was a huge part of what they did," Ryan said recalling a Rutgers-Florida International game. "I didn't (cover him one-on-one). He was in the slot and I was more outside, but he was all over the field. I got to tackle him a lot."
Nobody knows whether Meachem, Green or any of the other lesser-known receivers will come up as big during the rest of the playoffs. But one thing is clear: Defenses will be taking a hands-on approach to try and keep Hilton away from the ball — and he's ready for the challenge.
"It's a physical game, so guys are going to be physical regardless, especially now that it's the playoffs. Guys are going to do extra stuff," Hilton said. "I just don't let it bother me and if I continue playing my game and I should be fine."
__
AP Sports Writers Howard Ulman in Boston and Bernie Wilson in San Diego also contributed to this report.
__
AP NFL website: www.pro32.ap.org