Colts Dwayne Allen not feeling pressure in last year of contract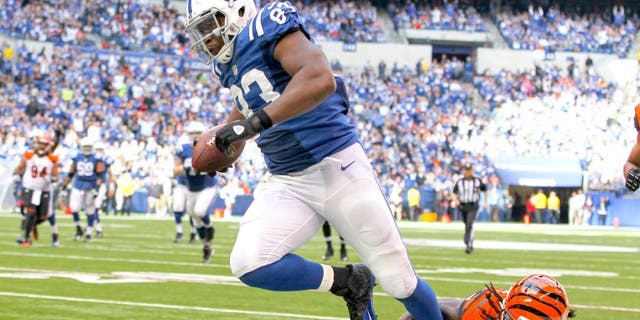 Even with Thursday's signing of wide receiver T.Y. Hilton to a five-year contract extension, the Indianapolis Colts still face a number of core players in need of new contracts.
Left tackle Anthony Castonzo and tight ends Coby Fleener and Dwayne Allen are all entering the final year of their contracts. Plus, star quarterback Andrew Luck is in line for huge extension as well at some point in the next two years.
Allen, in his fourth season with the team, said his impending free agent status isn't a cause for concern.
"No pressure at all," Allen said, per Mike Wells of ESPN. "I believe the film speaks for itself and there are those who know football and know the caliber of tight end that I am and know what I can offer an offense. There's no pressure for me to go out and hit any set numbers. My number one focus is to stay healthy so I can help the team. Special teams, three downs on offense. Whatever it takes."
The 25-year-old Allen caught 29 passes for 395 yards and eight touchdowns last season. He said injuries last season hampered his chemistry with quarterback Andrew Luck.
"One of the things that Andrew couldn't get comfortable with is the way I run routes and the way that I come open because I wasn't available to be out there that much last year because of the injures I sustained," Allen said. "Staying healthy and getting in a good rhythm with him is going to hopefully help those numbers go up."
If he can stay healthy, the formerly third-round pick isn't lacking in confidence about his abilities on the football field.
"I try to go into each game and take a focus into the game that I'm a No. 1 tight end in this league. And I have the pleasure to play with some great wide outs that are going draw a lot of attention," Allen said. "But even if they weren't, I believe I'm a No. 1 tight end that can create mismatches and get open."
(h/t ESPN)