Colton Sissons avoids suspension after cross-checking Penguins player in the face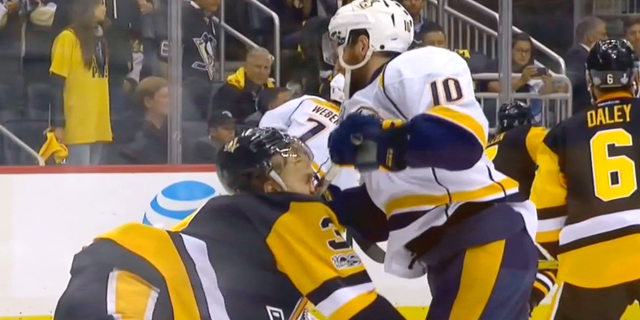 NEWYou can now listen to Fox News articles!
The Predators have avoided losing at least one key piece as they head into Game 6 of the Stanley Cup Final with their backs against the wall.
Center Colton Sissons wasfacing a possible suspension for cross-checking Penguins defenseman Olli Maatta late in Thursday's blowout Pittsburghwin. Sissons caught Maatta directly in the face with the shaft of his stick, though Maatta seemed to already befalling down as it happened. Regardless, Sissonswas given a match penalty for the play.
According to the NHL rulebook, any playerthat is on the receiving end ofa match penalty is suspended from further competition until the league makes a ruling on the incident.
Fortunately for Sissons and Nashville, the ruling came back in their favor.
That could have been a significant loss for Nashville, as Sissons has been centering the team's top line since Ryan Johansen went down with a season-ending injury in the Western Conference Final. Sissonshas six goals and six assistsin 21 games this postseason.
The Predators will have to hope they have similar luck with defenseman Ryan Ellis, who suffered an injury during Game 5 and didn't return. His status for Sunday's Game 6 is still up in the air.