Colorado prepares for potent offense of No. 2 Oregon run by dynamic QB Marcus Mariota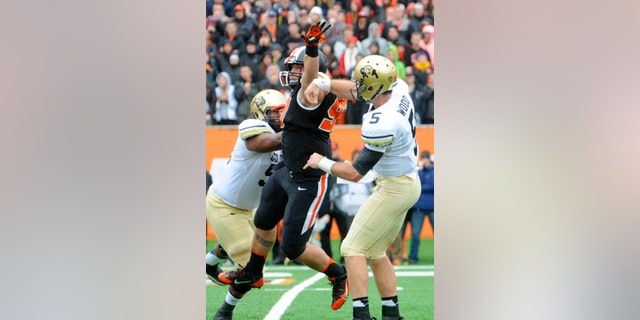 BOULDER, Colo. – The Colorado Buffaloes want to see Marcus Mariota play a full game because at least that would mean they're still hanging around.
The sophomore quarterback operates the fast-paced offense of No. 2 Oregon with such efficiency that he's only played four complete games in his career — and none this season.
Usually, Mariota's chilling on the sideline for the fourth quarter after dismantling defenses. The Ducks (4-0, 1-0 Pac-12) are averaging nearly 600 yards of total offense and beating teams by an average of almost 52 points. Oregon is a 39-point favorite against the Buffaloes (2-1, 0-1) on Saturday.
"At halftime, it's over every game. It's over," Colorado coach Mike MacIntyre said. "So, hopefully this one won't be over and we will be right in it."
Maybe accidentally, or perhaps even a little strategically, MacIntyre referred to the Ducks as the best team in the country. No offense to top-ranked Alabama, but as far as MacIntyre is concerned, the film doesn't lie and Mariota has them moving at "hyper speed."
"I would say right now, the way they're clicking and beating everybody," MacIntyre said.
Mariota definitely makes this team go, with his arm and his wheels. That's why MacIntyre compared him to current 49ers QB Colin Kaepernick, who was a standout at Nevada when MacIntyre was coaching at San Jose State.
"(Mariota) can make all the throws, he can run and he is an excellent, excellent player," MacIntyre said. "We've got our work cut out for us."
Asked what he will tell his team before facing such a formidable squad like Oregon, MacIntyre simply said: "Enjoy the moment.
"You're getting to play against the best team in the country, on national television. You're at home, great crowd," MacIntyre added. "I think they'll really enjoy playing and it'll be a lot of fun."
As the Buffaloes scheme of ways to accomplish what few have been able to do — slow down Oregon's offense — here are five things to keep in mind:
HOMECOMING: Oregon coach Mark Helfrich was the offensive coordinator at Colorado from 2006-08 under Dan Hawkins. Helfrich's biggest advice to his players about playing in Colorado? Steer clear of Ralphie, the Buffaloes' mascot, when the big beast is making her trip around the stadium. "Ralphie is a mismatch for everybody," Helfrich said on the Ducks' website. "When (Ralphie) makes that U-turn, everybody becomes like a rodeo cowboy. We'll do our best to avoid that."
MARSHALL PLAN: With running back De'Anthony Thomas unlikely to play due to a sprained right ankle, Byron Marshall should receive a bulk of the carries. Marshall rushed for a career-best 130 yards and two touchdowns last week against California. He has gained 326 yards and scored four times this season.
KNOCK ON WOOD: MacIntyre is eager to see how quarterback Connor Wood bounces back from a game at Oregon State in which he completed just 14 of 34 passes for 146 yards. He also had two TDS and two interceptions. "(Hall of Fame coach) Bill Parcells used to always say, 'You find out about quarterbacks when you see how they respond after a bad game and everybody's saying you should be playing the second teamer,'" MacIntyre said. "That's all part of being a quarterback. ... Can you keep sustaining your work ethic and your confidence? I'm looking forward to seeing how (Wood) plays and he's also going to play a really, really good defense. So, It's going to be an interesting test for all of us."
THE OTHER COACH MAC: The Buffaloes will honor former coach Bill McCartney in a halftime ceremony. McCartney is the program's winningest coach and will be inducted into the college football Hall of Fame in December. More than 100 of his former players are showing up at Folsom Field for the event, including 1994 Heisman Trophy winner Rashaan Salaam. "(McCartney) kind of put the University of Colorado on the map," MacIntyre said. "Especially in football and all that, and he should be honored. I am excited that he is getting that and I am excited that I will be able to be there to see it. I probably won't notice any of it going on during the game, but I am excited for him."
BACK AT FOLSOM: Colorado is playing at home for the first time in nearly a month after a devastating flood hit the area and led to the postponement of the game on Sept. 14 against Fresno State. There are no issues with the field.