Collision at home plate sparks bench-clearing brawl between Dodgers, Rangers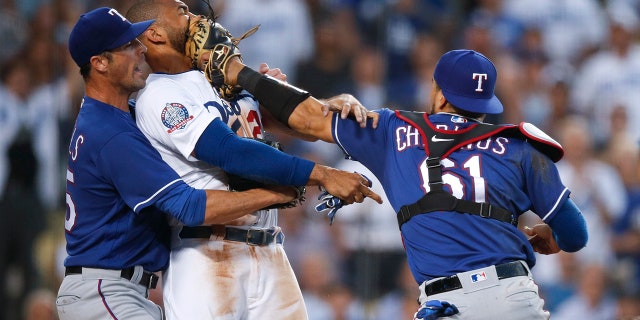 A collision at home plate at Wednesday night's game between the Los Angeles Dodgers and Texas Rangers sparked a benches-clearing brawl.
In the bottom of the third inning, Dodgers outfielder Matt Kemp tried to score from second base and was thrown out by Rangers outfielder Nomar Mazara.
Kemp, who was clearly beaten, barreled through catcher Robinson Chirinos trying to jar the ball loose, but to no avail.
Chirinos didn't take too kindly to Kemp's move and a shoving match ensued.
The incident caused both benches to get involved. Kemp and Chirinos were ejected once the dust settled.
Los Angeles won the game 3-2.