Colby Covington on UFC champion and teammate Tyron Woodley: 'I'll break him in half'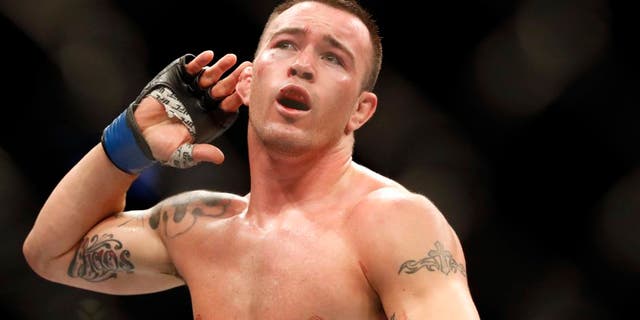 NEWYou can now listen to Fox News articles!
Fresh off a win over Dong Hyun Kim on Saturday, Colby Covington made it clear that he's coming for the welterweight title even if that means going through his teammate Tyron Woodley.
Covington wrapped up his fourth win in a row with a lopsided victory against Kim as he defeated his first top 10 opponent in the UFC while declaring himself "the uncrowned king" at 170-pounds.
Following the fight, Covington didn't mince words as he talked about his dominant win over Kim, who had previously won three fights in a row before falling on Saturday.
A stalwart at American Top Team in Florida, Covington was flanked for the fight by his coach Mike Brown as well as fellow welterweight standout Jorge Masvidal. While the bonds between teammates are definitely close inside that gym, Covington had no problem taking a shot at UFC welterweight champion Tyron Woodley, who represents American Top Team as well.
When asked about getting into title contender with his win over Kim, Covington brought up Woodley by name while referencing a past training session between the two of them.
Strong words from the former All-American wrestler from Oregon State but he wasn't finished after his comments about Woodley because he also turned his attention to former lightweight champion Rafael Dos Anjos, who fought on the same card.
Covington had actually asked to fight Dos Anjos as he moved to 170-pounds for the first time, but the Brazilian ended up with a matchup against Tarec Saffiedine instead. Dos Anjos won his welterweight debut, but it looks like Covington hasn't forgotten about his request to fight him next.
"The same thing would have happened to Rafael dos Anjos. Dude, he's scared, he's been ducking me for a long time," Covington said. "There's a reason he didn't fight me tonight and this is the reason.
"Tell RDA he's next."