Coca-Cola 600 and Charlotte Motor Speedway will honor military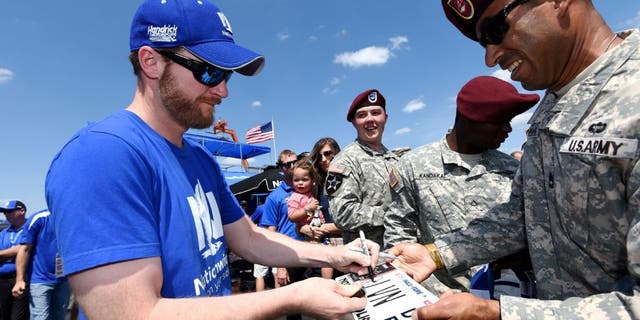 NEWYou can now listen to Fox News articles!
Game on.
Charlotte Motor Speedway on Tuesday announced ambitious plans to honor the military during the Coca-Cola 600. All told, the track is bringing in 6,000 soldiers for NASCAR's longest race.
The track will present USO of North Carolina President John Falkenbury with the prestigious Stonewall Jackson Award during the Coca-Cola 600 pre-race Salute to the Troops on Sunday, May 29.
This is the 75th anniversary of the USO, and 75 USO soldiers will give the command to start engines prior to the race.
"I am proud of the work the USO of North Carolina and our over 750 volunteers and staff do every day to connect our service members with their families, home and the nation," Falkenbury said. "Receiving the award during the Coca-Cola 600, one of the most patriotic venues that showcases our military, and during the celebration of the 75th anniversary of the USO is humbling."
Given annually since 1992, the Stonewall Jackson Award recognizes recipients who have demonstrated, by example, the highest standards of patriotism through personal support of the military and/or by personal service to sacrifice above and beyond the call of duty.

Prior to joining the USO in 2009,Falkenbury served for more than 20 years in the U.S. Army, with assignments throughout the United States and in Germany, including Battalion Executive Officer, 2nd Armored Division, Fort Hood, Texas; Chief of Operations and later Director of Public Affairs, 56th Field Artillery Command, Germany; Director of Public Affairs, U.S. Army War College and Carlisle Barracks at Carlisle Barracks, Pennsylvania.

The United Service Organizations of North Carolina (USO-NC), founded in 1941, is the lead organization charged with supporting military servicemen and women in the state of North Carolina. Eleven percent of U.S. military active duty forces call North Carolina home.