Coaches on the brink: Ducks' Boudreau, Caps' Trotz close to their 1st conference finals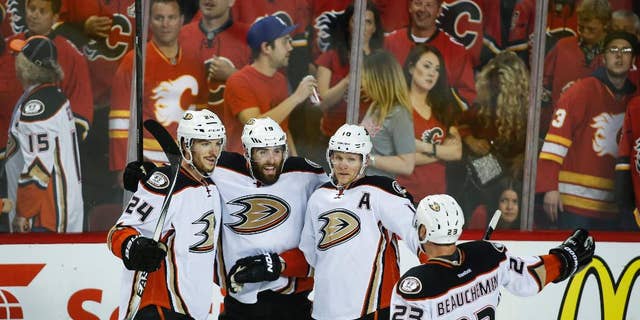 ANAHEIM, Calif. – Bruce Boudreau and Barry Trotz have heard the rap for their entire NHL coaching careers. They both realize they've been labeled as outstanding regular-season tacticians who just can't lead teams deep into the Stanley Cup playoffs.
On the brink of their first career trips to the conference finals, Boudreau and Trotz would rather talk about almost anything else than the personal milestone tantalizingly in their grasp.
"I try not to think about it," Boudreau said Saturday. "I'm just trying to think about (Sunday), because if it goes successfully, everything will take care of itself."
Boudreau's Anaheim Ducks could eliminate the Calgary Flames in Game 5 tonight to reach their first Western Conference final since 2007.
A few hours earlier, Trotz's Washington Capitals also will be on home ice for their second shot at knocking out the New York Rangers in Game 6 and earning a trip to their first conference finals since 1998.
Few coaches in NHL history have won more often in the regular season than Boudreau has done with Washington and Anaheim, while Trotz had a remarkable 15-season run in Nashville before moving to the Capitals this season.
Yet for all their consistent excellence during the winter, Boudreau has won just four spring playoff rounds in seven trips, while Trotz won just two rounds in his entire tenure with the Predators.
Boudreau has won seven division titles and a Presidents' Trophy in just eight seasons behind an NHL bench, but these Ducks might be his best team yet. Anaheim is 7-1 in the postseason after its 4-2 victory at Calgary in Game 4, putting its deep, balanced roster on the brink of another advancement.
Not that Boudreau is thinking about vindication.
"It's probably trying to get in there, but I won't let it," Boudreau said. "I just don't want to think about it. The last three games have been so tough that the minute you start thinking about putting the cart before the horses, you're in trouble. We've got a very tough opponent that will be very motivated tomorrow."
So do the Capitals, who nearly finished off the Rangers in Game 5 on Friday before the defending conference champions tied it with 101 seconds left and then won 2-1 in overtime. Neither team has time to change much in a tense series.
"I think guys understand that (when) you lose a game, it's sort of the playoff mentality (that) you let it go, and you figure out what you've got to do for next game," Trotz said. "It's a simple formula, but it's a mindset you have to have."
Here are both games on the NHL schedule, all times EDT:
___
Flames at Ducks, Anaheim leads 3-1, 10 p.m., NBC Sports Network
CLOSER THAN IT LOOKS
The Ducks are one last-minute tying goal and an overtime loss away from a perfect run through the first two rounds, yet they insist they're not overwhelming their opponents.
"We did a lot of good things (in Game 4), but at the same time we made a lot of sloppy mistakes," Boudreau said. "We can play much better, but the will of our team is very good."
Although Anaheim has outscored Calgary 16-6 in regulation in the series' first four games, the Flames demonstrated they can hang with the mighty Ducks for long stretches. They've got one last chance to alter the series on the road.
"We didn't make many mistakes (in Game 4), but they made us pay, and that's what good teams do," Calgary coach Bob Hartley said. "You can tell that they've been there. They're talented and experienced. They know where to push, and they know where to slow down. That's what we're learning right now. It's all about a learning process for us, but we want to keep winning at the same time."
___
Rangers at Capitals, Washington leads 3-2, 7 p.m., NBC Sports Network
HOME SWEET HOME
The Capitals enter Game 6 on a five-game home winning streak in these playoffs, the best such run in a single postseason in franchise history.
"It's something we've talked about all year, trying to be tough to play against at home," defenseman Brooks Orpik said. "Hopefully that's the case (Sunday)."
CHANGES EVERY NIGHT
In Washington's seven victories this postseason so far, seven players have scored the game-winning goals — with zero from Alex Ovechkin. Jason Chimera, Nicklas Backstrom, Karl Alzner, Evgeny Kuznetsov, Joel Ward, Jay Beagle and Andre Burakovsky have all come through.
Curtis Glencross could have made that eight go-ahead goals from eight players, because he put Washington ahead 1-0 in the third period of Game 5, but it was also Glencross who turned the puck over in overtime, leading to Ryan McDonagh's winner for the Rangers.
___
AP Sports Writer Howard Fendrich in Washington contributed to this report.