Coach Zimmer will miss Vikings OTAs to recover from eye surgery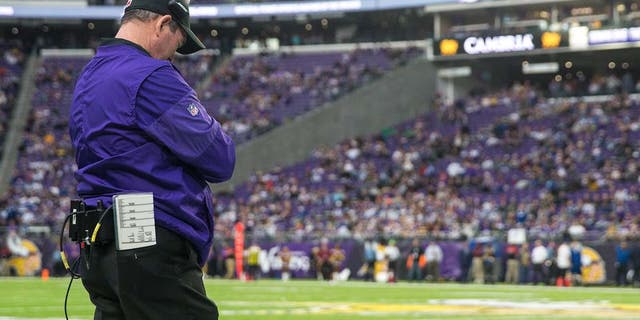 MINNEAPOLIS -- Minnesota Vikings coach Mike Zimmer will be taking time away from the team to allow his right eye more time to recover from his latest surgery.
General manager Rick Spielman said Monday that the organization anticipates Zimmer to return to the job "in a few weeks." Players will take the field Tuesday for the first of 13 scheduled offseason practices, including the mandatory minicamp in mid-June.
"We all agree Mike's health is the priority, and we believe rest and recovery are in his best interest for the long term," Spielman said.
Zimmer directed a free youth football camp Saturday at team headquarters and confirmed he underwent an eighth procedure on the eye last week.
He had the first surgery Nov. 1 to repair a torn retina, and a subsequent operation kept him from coaching the team Dec. 1 against Dallas. That's the only game he has missed in his three-decade career in the NFL. When the Vikings played Dec. 11 at Jacksonville, Zimmer wore a large patch over the eye for protection.
Zimmer said the procedure last week involved the removal of an oil bubble from the eye and the insertion of a gas bubble. That triggered a six-week prohibition for him from air travel. He said he hopes the latest surgery was his last but acknowledged he's thought that before, only to need another operation.
In an interview Monday with KFAN-FM, the team's flagship radio station, Zimmer said his eye doctor told him after his latest examination that the retina "looked perfect" and that the pressure had been significantly decreased.
"At this point now, we just need to take it easy and make sure it continues to heal the right way," Zimmer told KFAN.
Zimmer said he "was the one pushing back" on the hiatus, but the Vikings will send him daily video of the activities on the field for his review. He spoke to the radio station on his way, as a passenger in the car, to his vacation home in rural Kentucky.
"It's unfortunate timing, but it's more important to do it now than during the season," Zimmer said.