Coach reveals why Jose Aldo didn't throw leg kicks at Max Holloway during UFC 212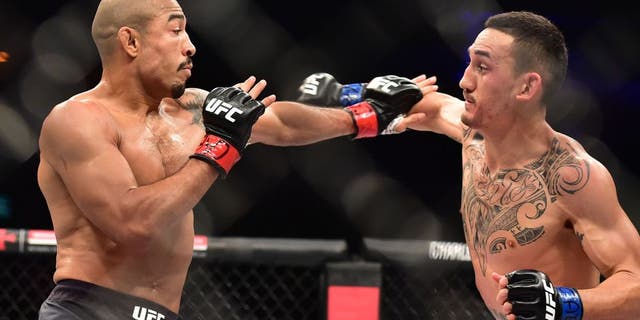 NEWYou can now listen to Fox News articles!
Former UFC featherweight champion Jose Aldo was suffering through a leg injury that prevented him from throwing kicks in his fight with Max Holloway at UFC 212.
That's according to his head coach Andre Pederneiras, who revealed the injury during a chat with FOX Fight Club after Aldo fell to Holloway in Brazil.
Following a strong first round from Aldo, the longest reigning featherweight champion in UFC history seemed to slow down in the second round before he was put down and out by Holloway in the third.
Throughout the entire fight, Aldo used his boxing but never threw a kick at Holloway, which seemed strange considering that has always been one of his primary weapons.
"Many people ask why he didnt throw kicks, Aldo had a leg injury, so he couldnt do any kicking throughout the camp, he couldnt run, do any of that," Pederneiras explained (translation courtesy of MMAJunkie). "Not that it takes away from Max Holloway and his win, were not saying that at all, but many people asked why he didnt kick.
"Its funny, because every round, Id step down [from the Octagon] and the crowd would be like, tell him to kick! and Id say OK, hang on and Id turn around and only us in the corner knew. We were really avoiding the kicks because of this injury. We were afraid [the muscle] would tear there."
Zuffa LLC via Getty Images/Jeff Bottari/Zuffa LLC
According to Pederneiras, Aldo adjusted his training during the camp to use only his boxing during the fight while doing everything he could to prevent further injury to the lingering problem with his leg.
"We spent the entire camp working the boxing, takedowns and the ground," Pederneiras said. "Since Aldo felt good in the first two rounds with the boxing, he won the first two, he said hed keep it going there until a point in which he could take him down, without worrying too much about taking him down then.
"But then a punch landed, and it all fell apart. Its part of fighting, hats off to Max, he did his job. He saw a moment in which Aldo felt the blow and left no chance for Aldo to recover."
Aldo's coach says that they hope to earn a rematch with Holloway at some point down the road, but they understand that he will likely have to take another fight before getting a shot at the current featherweight champion.
As of yet, Aldo hasn't said who he'd like to face next although there seems to be a lot of interest in a potential rematch with Cub Swanson, who fought him in the WEC back in 2009.
"Congratulations to Max, whos an amazing person," Pederneiras said. "[Whos] a humble and respectful person. We expect a rematch, for sure. But Aldo will probably have to do a fight before a title rematch.
"In a possible fight between Holloway and [Frankie] Edgar, I dont know if it will be Holloway or Edgar in the event of Aldo winning his next fight. Its a very tough fight. Edgar is a very experienced fighter, very well-rounded, whos a handful for anyone in the division."
Zuffa LLC via Getty Images | Jeff Bottari/Zuffa LLC