Coach: Nothing Frank Mir does will surprise Andrei Arlovski at UFC 191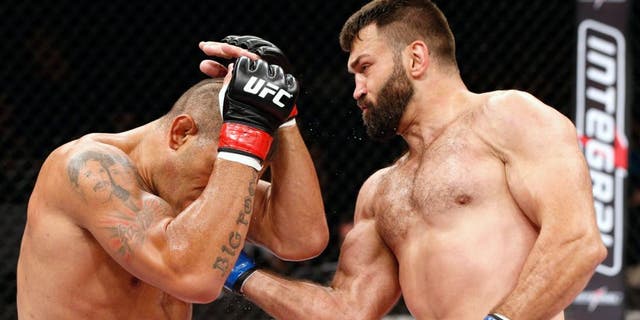 For awhile, Andrei Arlovski thought he had a 50/50 chance of fighting for the UFC heavyweight title, next. UFC president Dana White had said this summer that either Arlovski or Stipe Miocic were going to receive the next shot against new champion Fabricio Werdum.
Then, White suddenly changed courses and Cain Velasquez got an immediate rematch, Miocic drew Ben Rothwell and Arlovski got a quick turn-around fight with fellow former world champ Frank Mir.
Arlovski's Muay Thai coach Said Hatim recently flew to Alburquerque to train his charge out of Greg Jackson and Mike Winkeljohn's gym, and will meet up with "The Pitbull" again in Las Vegas, next week for UFC 191. According to Hatim, no one was mad that Arlovski didn't get the next shot at Werdum.
"We're definitely not upset at him not getting the title shot. We want him to keep winning and keep trusting himself and believing in himself. We don't make decisions. We just get a call like anybody else. Who knows who he'll ever fight next?" he told FOX Sports.
"You know how that goes, that's his job. To make a living you've got to get up and go fight. You can't wait on someone because of a belt. There's no such thing as that. He had the belt before, he's climbing to it. He's in the top four. It's hard to do. He's worked hard, already. He's been on the top, he's been on the bottom, he's been on the top again. We'll work it out."
One of the challenges to work out was Arlovski not having much rest or training time since his brutal May war with Travis Browne, where he was dropped and surely concussed before stopping his friend and former training partner. Hatim promised that Arlovski had made up for the brevity of his camp by staying in good condition and by making the most of every day.
"This was definitely a short camp but he's always in shape," Hatim said.
"We got him ready at the level that he's supposed to be at. He does whatever he's told, he's following all the instructions, he's happy, his head is clear. He's been training every day. Andrei's MMA coach since he began fighting in the UFC, Dino Costeas, is in Albuquerque now to help him with his overall MMA game and on the ground. We're ready for anything from Mir."
Hatim and all of Arlovski's coaches know just how dangerous the Brazilian jiu jitsu black belt Mir is on the ground. Hatim pointed out that their UFC 191 title contender's bout will be a complete fight, not just a grappling contest, however.
"Mir is excellent on the ground, with his Kimuras, his arm bars. He's one of the best in the world, and he's a true black belt," he conceded.
"But, belts don't mean everything. Grappling MMA is totally different. When you get punched in the face it's like you shut off a computer. There is no guard pulling or this or that in MMA. It's definitely going to be a different game."
Few are as well-rounded as Hatim in the MMA coaching game. After a career as a professional kickboxer, Said began training jiu jitsu with Dino Costeas, eventually earning his brown belt.
In addition to having won dozens of submission grappling titles, Hatim is also 2-0 in MMA, with his last fight being a double duty affair as he cornered Arlovski in the event's main event after winning his own bout.
Hatim has noticed Mir's improvement over the past year, especially on the feet with his boxing-focused striking attack. That said, he believes that Arlovski still has what it takes to get the better of this match up which fans have waited over a decade for.
"Mir is definitely learning new tricks," he acknowledged.
"He's producing new techniques in the stand-up and doing very well. He's adding a lot of great stuff - a lot of movement, a lot of switching. For example, he's not a Southpaw anymore. He's switching to the righty position. He's doing the right thing, you know, but we're ready for all that. Andrei has a lot of advantages over Mir, here. Nothing is going to be a surprise to us."