Clowney should quit while he's healthy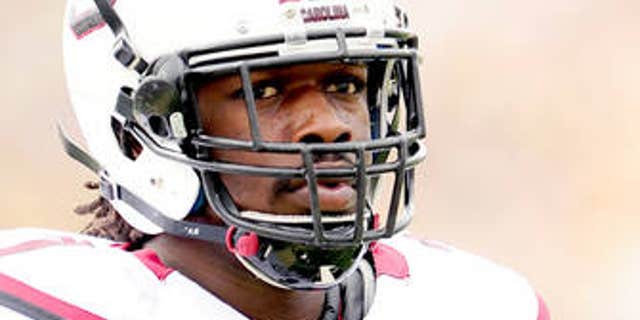 Jadeveon Clowney does not want to play college football. Simple solution:
Don't.
Clowney should hand in his South Carolina uniform, even if it means he'll be stuck with the dreaded label "Quitter."
We're already seeing it after Clowney said his ribs were too sore to play Saturday against Kentucky. Steve Spurrier's fed-up reaction reflected the growing consensus.
Clowney is soft. He doesn't love football. He's saving himself for the NFL. All the hype has gone to his head.
He's guilty on all charges. But before we officially designate this "Jump on Jadeveon Day," think back to Oct. 27, 2012.
That was when Marcus Lattimore's right knee was turned into a Slinky against Tennessee. Everybody who saw it was horrified. A certain 6-foot-6, 270-pound defensive end had an especially good vantage point standing on the South Carolina sideline.
The thought of that happening to him doesn't excuse Clowney's behavior, but it makes it more understandable. If you disagree, please do the math.
Lattimore was projected to be a mid-to-late first round draft pick. Players selected between No. 15 and No. 25 in the 2012 draft received $9.3 million to $7.7 million in guaranteed money.
San Francisco picked Lattimore in the fourth round. He signed a four-year deal for $2.46 million. That included a $300,000 signing bonus and a base salary this year of $405,000.
Lattimore was put on the Physically Unable to Perform list in preseason as he continues to recover from the injury. Nobody knows if he'll ever be the same runner he was at South Carolina. We do know the injury likely cost Lattimore at least $7 million.
Wouldn't he have liked to have had bruised ribs before that Tennessee game?
Like Lattimore, Clowney is a third-year junior. Like Lattimore, he was good enough to be drafted after his sophomore year but NFL rules prevented it.
Unlike Lattimore, Clowney probably would have been the No. 1 pick. The player who ended up there, Eric Fisher, signed a four-year deal for a guaranteed $22.1 million. Clowney got an all-expenses-paid trip back to Columbia from the Outback Bowl.
That's where he almost decapitated a Michigan runner. The video was replayed approximately 22.1 million times and cemented the legend. It also made one question ring out: Why shouldn't Clowney quit college football?
The NFL wasn't going to take down its artificial draft barrier requiring players to be three years out of high school. So why shouldn't Clowney just abandon his pursuit of an African-American studies degree, enroll in some IMG-type fitness camp and prime himself for the 2014 draft?
In retrospect, he should have. All this season has done is confirm the one knock on Clowney.
"He does what he wants and has a different set of rules," an NFL scout told WalterFootball.com. "He has the attitude of, 'What are you going to do, bench me?' He isn't a great worker and he doesn't do anything he doesn't want to do."
The main thing he's wanted to do so far is play doctor. He said a stomach ailment dehydrated him in the season opener. Bone spurs bothered him against Georgia and Vanderbilt. The stomach bug flared again last week against UCF.
Clowney's amassed 12 tackles, three sacks and a mountain of frustration as teams double-team him and run in the opposite direction. The benefits he brings are starting to be overshadowed by the distraction he's becoming.
"If he doesn't want to play, he doesn't have to play," Spurrier said. "Simple as that."
Whether the latest aches should have kept sidelined Clowney, only his hairdresser knows for sure. But doctors would not have cleared him to play if they didn't think he was healthy enough.
Basically, all he's done this year is hurt his reputation. The NFL is taking note, though it will largely overlook the diva routine.
Clowney isn't just a prospect, he's considered the Andrew Luck of defense. Whatever his motivation problems, the NFL believes he can overcome them. He may not be the No. 1 pick, but he's not going to slide out of the top five unless he is arrested for armed robbery.
Or he blows out a knee.
It's easy for most people to sit back and say such concerns shouldn't matter. That it's all about sacrificing for the team, gutting it out and not letting money creep into the equation. But most people weren't raised by a single mother who works in a Frito-Lay factory.
Maybe Clowney ate some bad Doritos before the opener. First it was the stomach bug, then bone spurs, now bruised ribs.
The real problem is Clowney's heart. It just isn't into college football anymore.
That's not doing him any good, and it's sure not helping South Carolina. So Clowney shouldn't worry about being labeled. Sometimes quitting is the best decision.
He should walk away while he can. If nobody else, Lattimore would certainly understand.