Closing MLB facility in Venezuela leaves prospects, personnel with nowhere to go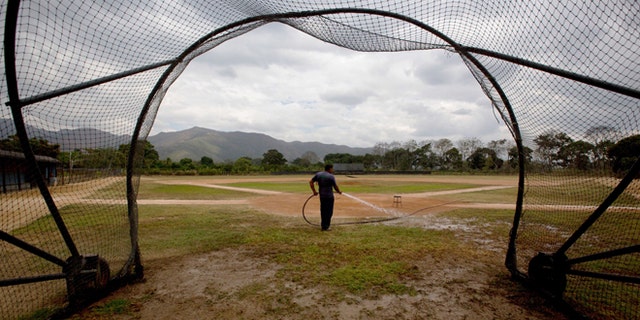 AGUIRRE, Venezuela (AP) – Moving day is just around the corner and trainer Emilio Carrasquel is inspecting baseball bats and loading unused jerseys into boxes making sure nothing has gone missing.
For the past 15 years, this small mountain town a four-hour drive from the capital has been the Venezuelan home of the Seattle Mariners and the testing ground for a bevy of homegrown big league talents, including Cy Young Award winner Felix Hernández.
But this week came word that the team's operations here are coming to an abrupt end, the latest in a string of 16 major league teams that have abandoned Venezuela in the past decade as a result of economic turmoil, rampant crime and mounting tensions with the United States.
On April 30, the facility in an alpine setting resembling a Spanish colonial hacienda will close its doors for good and its roster of some 30 teenage prospects taken to a newly built academy in the Dominican Republic.
"The news definitely caused an impact — we didn't think this would happen from one day to the next," said Carrasquel, head of the Mariners' operations in Venezuela. "But the decision was made and we need to act on it."
The Mariners said it was always their intention to consolidate their player development program in the Dominican Republic, where almost every team in the majors has a presence and they've built a state-of-the-art, $7.5 million complex for 80 players.
But their exit leaves just four major league teams braving it out in Venezuela — Detroit, Tampa Bay, Chicago Cubs and Philadelphia.
"Business as usual for us. No imminent changes," a Phillies spokesman said.
The departures from a country that has produced the likes of Miguel Cabrera, Johan Santana, Omar Vizquel, Andrés Galarraga and Hall of Famer Luis Aparicio have come as relations between the two countries hit a new low over accusations by President Nicolás Maduro that the U.S. is conspiring to oust him from power.
Last week, Maduro ordered the U.S. Embassy to slash its staffing in the country and made it mandatory for American visitors to apply for a visa. Several U.S. travelers have already been turned away trying to enter the country as a result of the new visa requirements, including a scout for the Houston Astros.
The U.S. has dismissed the coup talk as a desperate attempt to distract attention from a crippling economic crisis marked by 68 percent inflation and widespread shortages of everything from deodorant to car parts.
In addition to the political and economic strains, teams here face the challenge of keeping players and staff safe in what the United Nations says is the world's second-deadliest country. For ballplayers, those risks were underscored when Washington Nationals catcher Wilson Ramos was abducted at gunpoint in 2011 outside his family's home in the city of Valencia, a 90-minute drive down the hill from the Mariners' camp.
The Mariners' facility is an oasis from all the tumult. The 300 or so teenage players that pass through here every year never have to worry about finding a wholesome meal and sleep in spacious dorm rooms that are often more comfortable than what their poor upbringing can afford.
The exodus of so many teams doesn't appear to have hurt Venezuelans' chances of getting a good look. Last year, a record 97 played at least one game in the majors. Carrasquel says a network of local scouts affiliated with big league teams will still have plenty of talent to pick from.
And while some players complained about having to live far away from family for six months at a time, others are looking forward to measuring up against the stiffer competition.
"You can develop a lot faster in the Dominican Republic," said Oberto Muñoz, an 18-year-old catching protest.
But not everyone will be making the move. A staff of around 10 longtime cooks, janitors and maintenance workers are bracing to lose their jobs in the coming weeks and be thrust, like much of Venezuela, into an uncertain future.
"I don't know why they're going," said Carlos Galindez, holding back tears as he reflects proudly on his work caring for the academy's two baseball diamonds. "All I can say is they treated us well."
Like us on Facebook