Clippers will pursuit series win without Griffin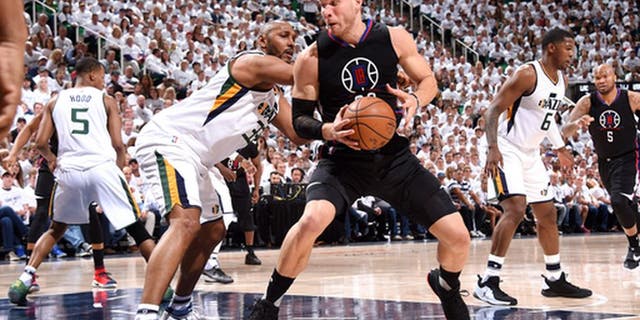 NEWYou can now listen to Fox News articles!
SALT LAKE CITY -- How far can the Los Angeles Clippers go without Blake Griffin?
That's a question facing the Clippers after Griffin suffered a season-ending injury to the plantar plate in his right big toe in the first half of Friday's 111-106 victory over the Utah Jazz.
Los Angeles rallied in the second half without Griffin to take a 2-1 lead over Utah in the Western Conference first-round series, but it came at a huge cost.
Without Griffin in the lineup, the Clippers will have to make major adjustments to their offensive sets. Los Angeles prefers to run high pick-and-roll with Griffin and Chris Paul. Griffin averaged 25.0 points, 6.0 rebounds and 2.5 assists in the first two games of the series.
Now the Clippers must find new ways to attack the Utah defense heading into Game 4 on Sunday night.
"One of the biggest adjustments is we obviously won't be able to play through the post as much," Paul said. "Blake is such a dynamic player in that we go to him in the post and we cut and move off of him.
"In the ball screens, a lot of times he's our other assist guy. A guy we play off of and stuff and just his leadership. It's just a different feeling when he's on the court."
Paul sparked Los Angeles in the second half in Game 3, scoring 24 points en route to a season-high 34 points. He hit four straight baskets in the fourth quarter to fuel a decisive 15-0 run.
A bigger load will fall on his shoulders and on DeAndre Jordan to pick up the slack.
Paul seems up to the challenge. He is playing some of his best basketball in the postseason. The veteran guard is averaging 26.7 points, 10.3 assists and 5.3 rebounds against Utah.
"He's just good, number one," Clippers coach Doc Rivers said. "He trusts the actions we're running, number two, and he has an amazing wheel. He really does. He's just a tough, tough guy.
"He's stubborn in a very, very positive way. All the great ones have that in them. They are stubborn enough like they aren't going to lose."
The Jazz are already in the position of navigating the postseason without one of their best players. Rudy Gobert has been sidelined for all except 17 seconds of the series after hyperextending a knee and suffering a bone bruise on the opening possession of Game 1.
Gobert was upgraded to questionable for Game 4, Jazz coach Quin Snyder told reporters Sunday at the team's mid-day shootaround.
"He's making a lot of progress," Snyder said. "He's a lot farther along than I thought he'd be at the time of his injury."
Dealing with Gobert's absence hasn't been easy. Utah appeared poised to take a series lead on Friday until Paul took over in the fourth quarter.
Gordon Hayward powered the Jazz to an early double-digit lead after exploding for 21 of his career-high 40 points in the first quarter.
Hayward went 7 of 8 from the field while playing all 12 minutes in the quarter. He scored the most points of any Jazz player in a quarter in a playoff game.
Hayward struggled a bit down the stretch. He scored a single fourth quarter field goal and threw away an inbounds pass in the final seconds.
Snyder said other players need to step up to take the pressure away in those situations.
"Gordon is our leader out there on the court," Snyder said. "He had a big game. It just shows there's other things that you got to do.
"I don't look at it as a wasted effort or anything like that. He's capable of doing that. We've been talking about him having one of those nights, if he stays aggressive."
Limiting the Clippers around the basket continues to be a problem for the Jazz. Utah has allowed 48.7 rebounds per game in three games against Los Angeles. The Jazz are also surrendering 49.3 points in the paint per game.
It has opened the door for the Clippers to get plenty of second-chance baskets and make it tough for the Jazz to get stops at critical junctures. Utah is in must-win mode going into Sunday's home game.
"Definitely, you don't want to go down 3-1 going back to their place," Jazz guard George Hill said. "They have been playing well at home. Yes, it's a must-win situation for us. I feel like we would rather put the pressure on them going there 2-2 knowing we can get a win there and bring it back home."