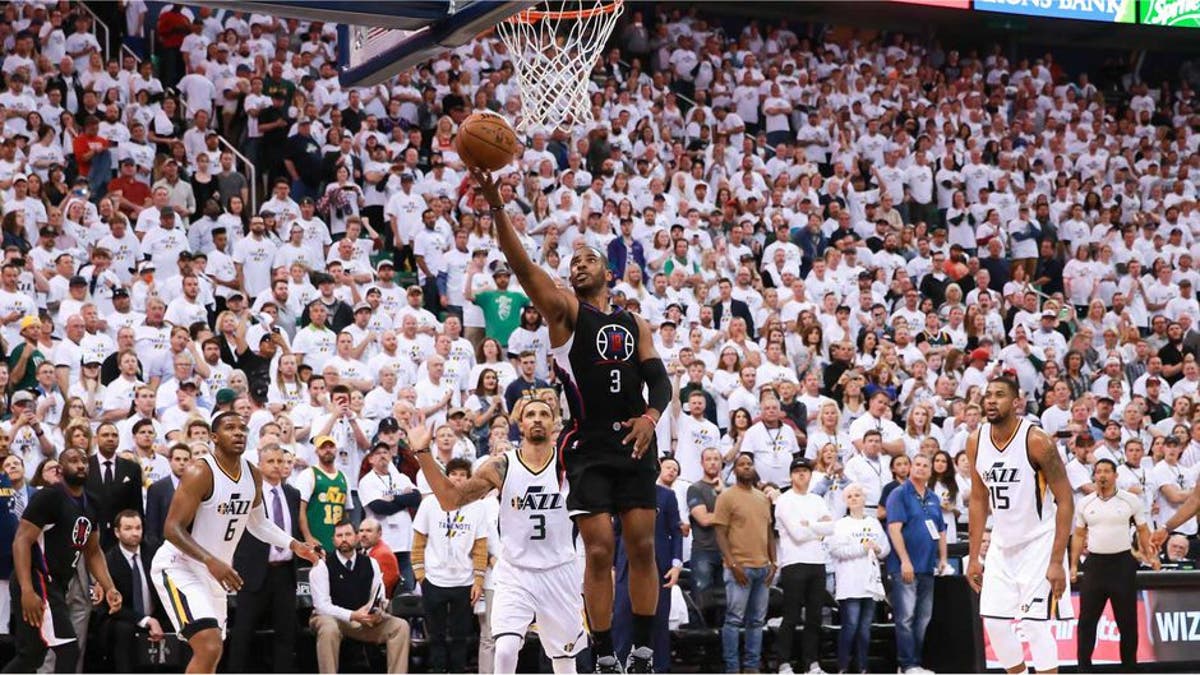 LOS ANGELES -- In three of the four postseason games between the Utah Jazz and Los Angeles Clippers, the winning team prevailed despite losing a star player during the action.
Whether or not the trend continues in Game 5 of the Western Conference first-round playoff series on Tuesday night at Staples Center, at least one of the clubs will start without a top performer.
Utah captured Game 4 on Sunday to even the series 2-2 despite playing the second half without All-Star forward Gordon Hayward, who couldn't overcome a case of food poisoning.
Joe Johnson, the Game 1 hero, rescued the Jazz again in the fourth quarter, scoring 13 of his game-high 28 points, including 11 straight at one point. He helped the Jazz to claim a 105-98 victory at Vivint Smart Home Arena in Salt Lake City.
As of Monday night, the Jazz hadn't announced whether Hayward would play Tuesday. The club said his status was to be determined, meaning his availability probably wouldn't be known until after the Tuesday morning shootaround or before tipoff.
If Hayward isn't able to play, Jazz coach Quin Snyder would be forced to mix and match his lineups, much as he did in Games 1 and 4.
"It's beyond next man up for us," Snyder told the Salt Lake Tribune. "It's really a process of the day. We've really become numb to it. It's almost like the weather."
In Game 4, the Clippers were forced to weather the storm without Blake Griffin, who is sidelined for the rest of the postseason with a plantar plate injury to his right big toe he sustained in the team's Game 3 win.
Point guard Chris Paul collected 27 points, 12 assists and nine rebounds Sunday, but he couldn't prevent the Clippers' fourth-quarter fade.
The Clippers also received a solid outing from guard Jamal Crawford, who struggled in the previous three postseason games before coming off the bench to score 25 points with a career-high five 3-pointers in Game 4. However, foul trouble limited Crawford in the fourth quarter.
"Give (the Jazz) credit. They made shots and we missed every shot down the stretch," Clippers coach Doc Rivers said. "I thought the turning point for us was Jamal's fifth (foul) and they were small, and we had to take him out. And we didn't have another guard. I thought they hurt us in that stretch because Jamal had it going."
It was the second time in the series that Utah prevailed while playing short-handed. Rudy Gobert, who sustained a hyperextended left knee less than 20 seconds into the opener, returned for Game 4 to deliver 15 points and 13 rebounds.
Johnson lifted the Jazz in Game 1 by scoring 21 points and hitting the winning bucket at the buzzer to stun the Clippers at Staples Center.
Austin Rivers (strained left hamstring), who has missed the past 10 games, is expected to return for Game 5. However, Doc Rivers said his son would play limited minutes.
"I don't know what to expect," Doc Rivers said. "I would say if he gave us a couple of good minutes, I would be good with that."