Clint Bowyer says his victory party would blow Dale Jr.'s away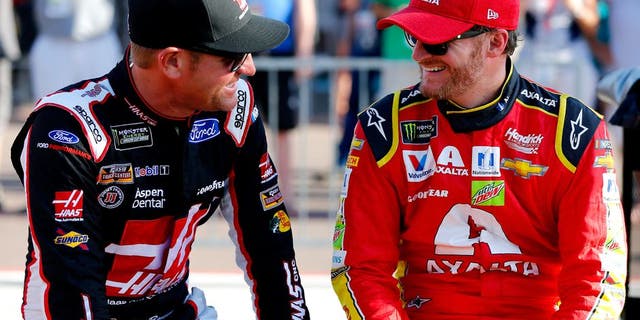 During his media availability at Kansas Speedway Friday morning, Kansas native Clint Bowyer was asked a simple question.
If it came down to it in this tonights Go Bowling 400 at the 1.5-mile track, who would throw the bigger party if he were able to win the race: Bowyer or Dale Earnhardt Jr.? Bowyer, who hails from Emporia, Kansas, made it clear that hes more prepared than Dale Jr.
What is he gonna have, a bike riding party? joked Bowyer, getting a dig in on Earnhardts new hobby that helps him stay in shape. What has happened to this guy?
We would have a large time. I know the hot-spots around here and he doesnt. I think probably everybody would have an open invite.
Then Bowyer got to the heart of the matter, explaining why his party would be bigger, bolder and better. He said he would lean on Stewart-Haas Racing teammate, whose primary sponsor this weekend is Busch Light Beer, if need be noting that the Anheuser-Busch brewery where it is mass produced is not far away.
I have a sponsor with a hell of a product, a teammate with a hell of a product sponsor, so St. Louis isnt very far away either, said Bowyer, driver of the No. 14 SHR Mobil 1-sponsored Ford. We will be fine.
If either Earnhardt or Bowyer is to win at Kansas, he'll have to come from the back. Both of their cars were among the 11 that failed pre-qualifying inspection Friday and never made it onto the track for a qualifying attempt, which Bowyer admitted was "super disappointing."
It has been 159 races and going on five years since Bowyer last made it to Victory Lane at Charlotte in October of 2012, but he continues to love life in his first season with SHR.
You think about winning. I never think about how long it has been, Bowyer said. I think about how were going to get it done. You have that thought process through the week as you are going through competition meetings starting Monday and your conversations with the crew chief all week long.
The biggest thing is you are lined back up with an organization that is capable of doing that. That is item No. 1. You are with a manufacturer that is capable of doing that and is winning races and competing at the highest level. Each and every week you go to the racetrack knowing you have a chance to win the race.
Then you can think about the post-race party.
None of which was on Bowyers mind in recent seasons, especially last year when he drove for HScott Motorsports and struggled to a career-worst 27th-place finish in the final points standings. He also failed to register a single top-five finish for the first time since he his first season of driving full time in the Cup Series in 2006.
This year hes ninth in the points heading into Saturday nights Go Bowling 400 at his home track, and already has a two top fives a second at Bristol and a third at Fontana.
All the past that has happened is the furthest thing from my mind because you are back to sitting in equipment capable of winning these races and competing at the highest level, Bowyer said.
Only then can you start seriously planning how to celebrate a victory again at the highest level.