Clint Bowyer answers tough question: 'You worried if you're still any good?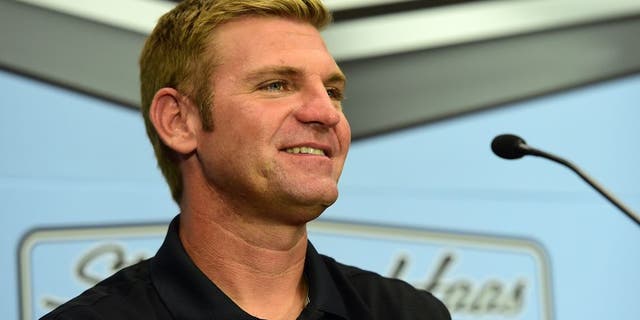 NEWYou can now listen to Fox News articles!
The question to Clint Bowyer came straight out of the blue.
Bowyer, who this year will drive the No. 14 Stewart-Haas Racing Ford, was at the Ford Performance R&D Center in Concord, N.C., Wednesday as part of a media event with team co-owner Tony Stewart and Ford execs Raj Nair and Dave Pericak.
About halfway through his media scrum with a group of reporters, Bowyer was asked about as blunt a question as a driver can be asked: "You worried if you're still any good?"
To his credit, Bowyer did not flinch even a little.
"Dudes. Hey, that's a real legitimate question you know?" said Bowyer, who last year had by far the worst season of his career in a one-and-done deal with the now-defunct HScott Motorsports. "You just don't know. Hell, you've never been in one (a competitive car) for a while."
In both 2015, when Bowyer drove for Michael Waltrip Racing and again last year with HScott, he was driving for teams that were on the verge of shutting down. So drawing any inferences or conclusions about his talent behind the wheel probably wouldn't be too revealing.
But as recently as 2012, Bowyer finished second in points in what is now known as the Monster Energy NASCAR Cup Series.
"I think the last time I was in a good car, I was good," said Bowyer. "I'm a smarter driver than I was three years ago, you know what I mean? I think I'm plenty capable of winning races if we can get a team underneath of me and these good cars."
And he's certainly excited about his new home and the opportunities ahead.
"I love what I see at Stewart-Haas," said Bowyer. "I really do believe if I'm going to win a race, this is exactly where I'm going to win a race in this kind of situation. And wouldn't it be awesome if it was the Daytona 500, so I could just quit having to answer that damn question?"
For his part, Bowyer's boss, SHR co-owner Tony Stewart, is confident in the team's newest driver.
"He was a contender. He could win races, make the Chase. He's somebody that can get the job done," Stewart said of Bowyer.
"I don't know that we've even really set goals for him, it's just nice to get him in a system, get him in a car that he's going to be happy in again and put a good effort (forth) for him."