Cleveland Indians pitcher Trevor Bauer denies writing 'Bush did 9/11' on mound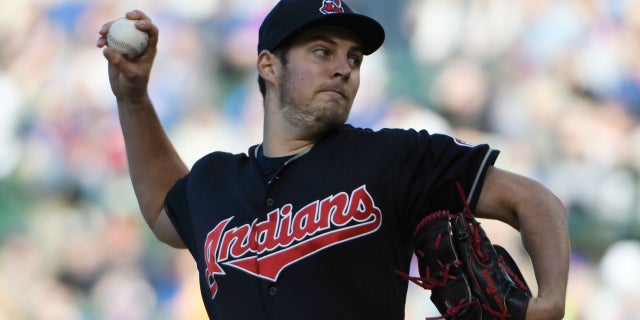 NEWYou can now listen to Fox News articles!
Cleveland Indians pitcher Trevor Bauer vehemently denied he was promoting a conspiracy theory about the Sept. 11 terror attacks on the pitcher's mound during Tuesday's game.
Bauer, 27, was coming off a victorious outing against the Chicago Cubs but a strange message on the pitcher's mound seemed to detract from his stellar pitching.
Bauer appeared to use his cleat to write what seemed to be "BD 911" on the mound before the game began. Social media users speculated Bauer was trying to write former President George W. Bush "did 9/11."
Bauer said the speculation angered him and took to Twitter to clear any confusion.
"I went on Twitter to see people making ridiculous accusations about what it means and it pissed me off," Bauer tweeted and told reporters.
LINEBACKER IMPLICATES COACHES AFTER LATE HIT SPARKS OUTRAGE IN JAPAN
He also claimed he wrote: "BD 91.1."
"It's completely unrelated. For people to take it any step further than that is just ridiculous. It's a tragic day in our country's history. It's senseless and that's all there is to it. Shame on the people saying that. It's completely unrelated.
"It's a personal thing with me and a close friend of mine and training. That's it. It has nothing to do with anything else. It pisses me off that people would say that, so I just had to clear the air on that. It's a shame that it's a distraction from a great team win. It's ridiculous," he continued.
Bauer did not clarify on the message's meaning further but instead left the mystery up to everyone else.
NFL ADOPTS POLICY TO FINE TEAMS IF PLAYERS AND PERSONNEL DON'T STAND FOR NATIONAL ANTHEM
The right-handed pitcher was known for being one of the more outspoken players in the MLB. Earlier this month, he accused Houston Astros pitchers of "doctoring the ball" in order to improve their grip on the ball.
The Indians beat the Cubs 10-1. Bauer allowed no hits during his six-inning outing.