Clemson's Swinney named Home Depot Coach of the year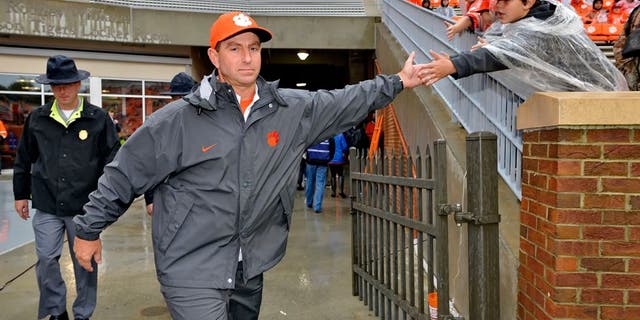 Days after having a pizza party to honor Clemson's ACC championship and undefeated season, Dabo Swinney has another reason to celebrate as he was named the Home Depot Coach of the Year on Wednesday.
At 13-0, Swinney's Tigers are the only undefeated team in the FBS and will be the No. 1 seed in the College Football Playoffs, where they will face No. 4 Oklahoma (11-1) on Dec. 31 in the Orange Bowl.
Clemson currently has the longest active winning streak in the country at 16 games. The last time the Tigers lost was to Georgia Tech on Nov. 15, 2014.
Swinney is the 22nd coach to be named the Home Depot Coach of the Year, and is the first Clemson coach to receive the honor.
The Tigers' eighth-year coach was also crowned the ACC Coach of the Year last week and owns a 74-26 lifetime record and Clemson.