Clayton Kershaw to start Game 4 of NLDS on short rest for Dodgers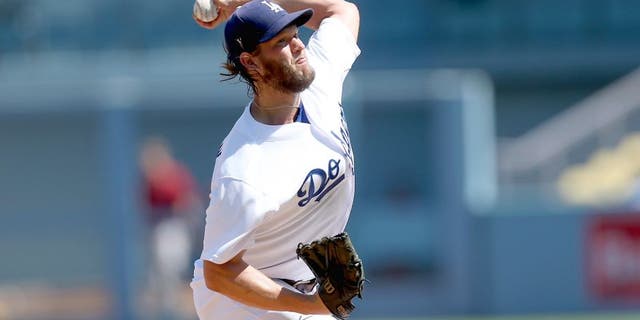 NEWYou can now listen to Fox News articles!
There was some debate as to whether Clayton Kershaw would pitch Game 4 after the concerning end to his Game 1 start, but Dodgers manager Don Mattingly will hand the ball to his ace in what could be a series-clinching game.
The Dodgers announced Monday that Kershaw, who has historically struggled on short rest, will start Game 4 of the NLDS for the Dodgers in New York. The team had previously been deciding between Kershaw and fellow left-hander Alex Wood to make the start.
Although the 27-year-old lefty struck out 11 Mets and allowed only four hits in Game 1, he came unraveled in the seventh inning, loading the bases with three walks in the inning, which caused Mattingly to call the bullpen.
Despite his regular-season dominance over the past seven seasons, Kershaw has struggled in the postseason, and did nothing to quell concerns about his ability to win playoff games with his performance in Los Angeles on Friday night, as the Dodgers dropped Game 1 by a score of 3-1 on Kershaw's three earned runs.
Nonetheless, the following night, Zack Greinke won Game 2 after surrendering two earned runs on solo home runs, buoyed by five runs of support from the Dodgers offense.
After Friday's loss, Kershaw is now 1-6 in the postseason with a 4.99 ERA.
The Dodgers' announcement of their Game 4 starter comes a day after the Mets announced that they will start rookie Steven Matz in lieu of Jacob deGrom, who outdueled Kershaw in Game 1, on short rest in Tuesday's Game 4.