Clayton Kershaw isn't bothered by postseason struggles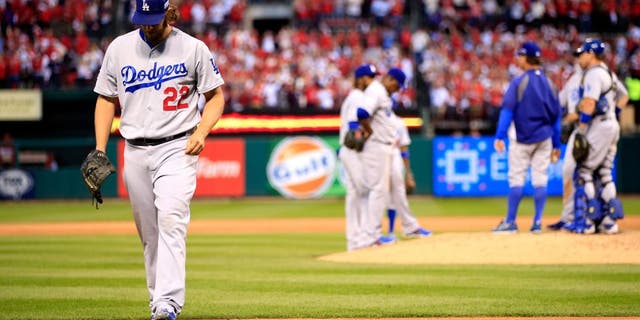 NEWYou can now listen to Fox News articles!
Clayton Kershaw has been one of the best pitchers in baseball for the past seven seasons, but he has been haunted in the postseason, particularly by the St. Louis Cardinals in back-to-back Octobers.
Nonetheless, the Dodgers lefty ace isn't particularly bothered by his inability to win games in the postseason.
"I definitely remember, but it's a new team, new season and hopefully for me a new outcome," Kershaw said Thursday as he prepared to open the NLDS against the Mets on Friday at Dodger Stadium.
While Kershaw holds a 114-56 record with a 2.43 ERA in his career during the regular season, he is 1-5 with a 5.12 ERA in the postseason. Four of those losses came in the past two seasons against the Cardinals, who jumped on Kershaw late in his outings.
"I don't need to be fueled by too much," Kershaw replied when asked if his prior shortcomings added motivation for him this postseason.
Despite the constant dissemination of Kershaw's bloated postseason stats, there is plenty of context behind them that numbers alone won't convey.
Two starts in particular ballooned his postseason ERA: Game 6 of the 2013 NLCS and Game 1 of the 2014 NLDS, both of which were played against the Cardinals.
Kershaw pitched Game 6 on short rest after shutting down the Cardinals in Game 2 (he still picked up the loss despite not surrendering a run), and a disastrous seventh inning in Game 1 negated a brilliant six prior innings in which he struck out 10 batters.
Nonetheless, Kershaw isn't concerned if he's judged solely on the end results of his postseason starts.
"I don't really judge myself, I guess," the 27-year-old lefty said. "I don't really judge other players. That's for you guys to do. I don't really care, honestly.