Claudia Gadelha: Joanna Jedrzejczyk wants to be like Conor McGregor but is too stupid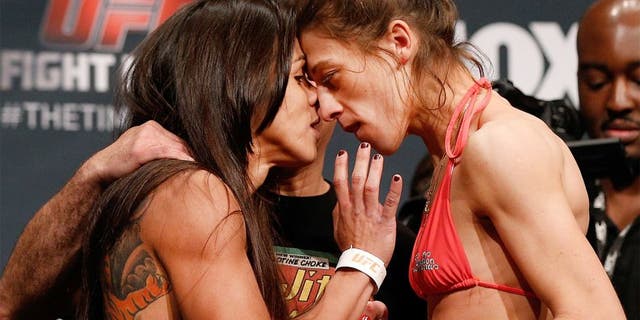 Claudia Gadelha was never a big fan of Joanna Jedrzejczyk. The two fought for the right to challenge for the strawweight belt back in 2014, and Jedrzejczyk won a close decision.
Of course, the Polish dynamo would go on to win the UFC championship, defend it and is now a budding star as the reigning queen of 115 pounds. Jedrzejczyk will defend her belt in a rematch against Gadelha later this year, and as that date draws near, the venom between the two fighters has gotten more sharp.
During a recent press conference, Jedrzejczyk teased Gadelha on stage and the two sparred verbally. All signs point to a bombastic opposing tenure for the women as coaches of the upcoming season of The Ultimate Fighter, which has already been taped.
The Brazilian may have never liked Joanna "Champion," but after spending a couple months with her on TUF and nearly coming to blows several times, she's really ready to lay hands on her rival once more. According to Gadelha, Jedrzejczyk's trash talk is just simple-minded banter.
"I think she's trying to be like [Conor] McGregor," Gadelha told Combate, as translated by Guilherme Cruz.
"McGregor is very smart. He knows what he's saying. If he says something and you answer, he knows how to fire back."
She says Jedrzejczyk, on the other hand, isn't as bright a bulb as the male featherweight world champion.
"Joanna is stupid," she put it bluntly.
"The same way she fights, she is personally. If you go over her like a lion, she turns into a kitten. And it was like that with the trash talk. When she came like a lion, I went like a lion too, and she turned into a kitten and wouldn't say anything."
According to the challenger, the UFC was afraid to leave her and Jedrzejczyk alone during TUF taping, and with good reason. "Every time we saw each other, it got ugly," she claimed.
"We almost brawled a few times, but there was always someone around. In the last day, we were signing shirts, gloves and everything we had to do in the end of the season, and cameras were off. Joanna was coming back from the bathroom, and I was going to the bathroom. We bumped into each other and got face to face inside the gym. She showed me the middle finger, and I said something in English that got her pissed off.
"She looked at me and said 'what?' She was holding a bottle, and threw it at me. I dodged it. She was even angrier that I dodged it. She said 'Do you want to fight?' I said 'Yes! Come!' She was 16 feet away from me, came in my direction and I didn't move. But when she got close to me, she didn't do anything. I pushed her, she pushed me back, and I kicked her. And then they held her back. She was like 'don't hold me,' but walking backwards like 'hold me, but don't hold me' [laughs]."
Yup. This upcoming season of TUF is going to be great.