Claudia Gadelha: 'I think I am the only strawweight that can beat Joanna Jedrzejczyk'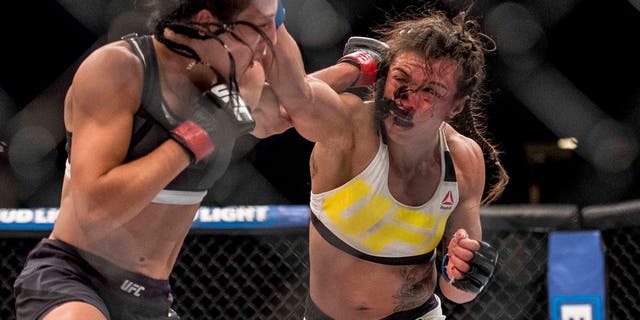 NEWYou can now listen to Fox News articles!
In two fights with strawweight champion Joanna Jedrzejczyk, No. 1 ranked contender Claudia Gadleha has come closer than any other fighter to handing the Polish fighter her first professional loss.
Their first fight ended in a very close split decision that many people still argue Gadelha should have won but nonetheless she got a second shot at Jedrzejczyk last year in one of the best fights on 2016.
Unfortunately after a very strong start through the first two rounds, Gadelha ran out of gas and fell to Jedrzejczyk for a second time. Now as she approaches her upcoming fight against Karolina Kowalkiewicz at UFC 212 this weekend, Gadelha knows that she'll have to do a lot to earn it but if anyone in the UFC has a chance to dethrone Jedrzejczyk, it's going to be her.
Gadelha admitted that she used to suffer through brutal weight cuts to get down to the 115-pound limit, but she recently relocated to the United States full time to begin work with head coach Chris Luttrell, who is a black belt under famed trainer Greg Jackson in New Mexico.
Along with her new team, Gadelha got her weight under control and now says she's less than five pounds away from making the strawweight limit for her fight on Saturday.
Add to that, Gadelha believes her new team will push her in ways that would better prepare her for a fight with Jedrzejczyk so she's doing everything in her power to earn that third bout at some time down the road.
"I'm excited to show my new tools, show the new Claudia and making everybody impressed with my performance. To show them I can get back there and fight her again," Gadelha said.
"It's my job. That's my goal. That's my motivation. That's what I work for everyday. To show people that I can fight her again and beat her. It's not about fans. It's not about the UFC. It's about me. Saturday night is my next chance to show that to everybody."
Matthew Stockman/Getty Images
To take one more step towards that goal, Gadelha will have to go through Kowalkiewicz, who is coming off a five round fight with Jedrzejczyk last November.
Following her last fight, Gadelha was struggling to find opponents because she says most of the top ranked strawweights did everything possible to avoid her, but she commends Kowalkiewicz for actually asking for this fight against her at UFC 212 in Brazil.
"I love the matchup. I don't have a manager so I always talk to the UFC myself and I always tell them I want to fight the best," Gadelha explained. "I want to fight ranked fighters. I like to take risks. I like to challenge myself. That's what I live for.
"Karolina told Sean Shelby she would like to challenger herself against me so I was very happy that I got a fight."
The strongest argument Gadelha can make for a third fight against Jedrzejczyk could come with her performance against Kowalkiewicz on Saturday night and she's not lost on that fact ahead of her co-main event slot at UFC 212.
"I have to train smarter and become a better fighter to show people that I can fight her again. This is my job now," Gadelha said.
"It's not the UFC trying to market that fight. It's not about the fans. It's all about me. The pressure's on me. I have to become a new Claudia to fight Joanna again. That's my goal. That's my motivation."
Jeff Bottari/Zuffa LLC | Zuffa LLC via Getty Images