Claudia Gadelha dominates Cortney Casey in lopsided decision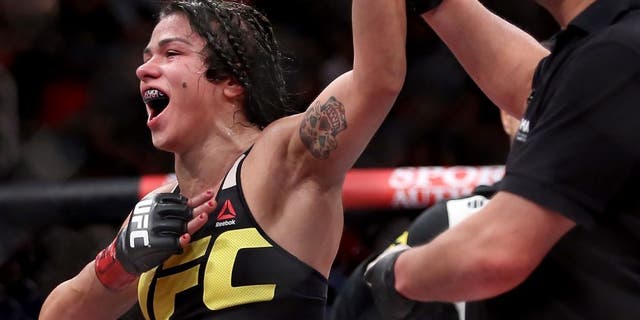 Claudia Gadelha picked up a dominant win over Cortney Casey on Saturday in Brazil, but not without a little bit of controversy in the final round.
It all happened in the third round after Gadelha stood up over her opponent on the ground and looked to take advantage as Casey was working her way back to the feet.
Instead of standing up, Casey pivoted on the mat and Gadelha uncorked a huge kick while trying to time her opponent getting off the mat.
Gadelha said after the fight was over that she was trying to time a kick to the body but her foot ultimately glanced off Casey's forehead. Casey rolled over in obvious pain from the kick as the referee paused the bout to give her time to recover.
Despite the illegal shot, Casey was able to get back to her feet and the fight continued, but the referee didn't even take a point for the kick. It really didn't matter in the end as Gadelha controlled the fight from start to finish with a series of punishing strikes on the feet combined with a powerful grappling game on the mat.
Gadelha landed the better shots while standing and the threat of the takedown had Casey second guessing her strikes all night long.
When it was over the judges all agreed with the same result as Gadelha cruised to a 30-27 victory on all three scorecards.
Back in the win column, Gadelha asked for a top opponent for her next fight after facing Casey, who was unranked coming into the night.
While Gadelha has come up short on two occasions against Jedrzejczyk, she's also given the champion everything she could handle in both encounters.
Regardless of those results, if Gadelha can continue to put on these kinds of performances, it's going to be impossible to deny her another shot at the belt at some point down the road.