Clark believes old mates can still come back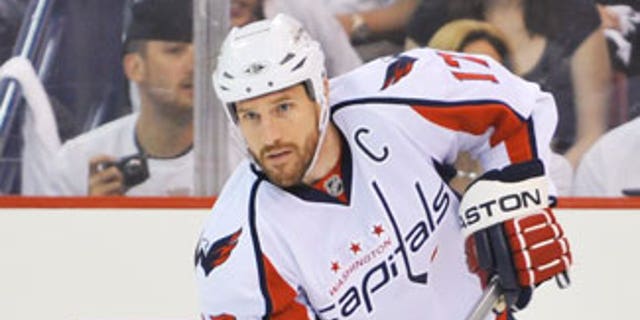 The postseason is a fickle animal. In the two-month journey from 16 teams to one, multiple games and series turn on one play or bounce that can be a veritable coin flip, with no play perhaps being a better example this spring than the fortunate bounce that dropped a puck right in front of Washington's Jason Chimera in double overtime of Game 4 between the Capitals and Rangers, which he easily slammed home to give Washington what proved an insurmountable lead in its first-round series.
Those moments are commonplace, and they often prove the difference between a battle and a forgone conclusion. Two weeks after that lucky bounce, the Capitals seem to be on the short end of those breaks, something that now has them fighting for their season Wednesday night in Game 4 against the Lightning. That the Capitals trail Tampa Bay 3-0 in their Eastern Conference Semifinal surprises many, few more than Chris Clark, one of the players Washington shipped to Columbus last season to bring Chimera to the squad.
"I don't think anybody expected it," Clark said during a visit to NHL headquarters in New York on Wednesday. "But they're playing well. They're getting the shots. [Lightning goalie Dwayne] Roloson has been playing phenomenally. It's tough to beat a hot goalie, especially in the playoffs. But they have to just keep doing what they're doing. They're not getting the bounces. If [Mike Knuble's nullified goal in the first period of Game 3] would have counted, that would have maybe turned the game around."
Clark knows this team better than most. Before being traded with defenseman Milan Jurcina to Columbus in December 2009 in the deal that brought back Chimera, Clark had been with Washington for four-and-a-half seasons, with all but one spent as the team's captain. As a result of his leadership position, the Connecticut-born winger has as intimate a knowledge of Washington's roster as anyone who didn't spend the 2010-11 season in its locker room.
Given his connection to the players on the Capitals it's no surprise Clark has been paying attention. While he would prefer playing in the Western Conference playoffs with the Blue Jackets right now, not being in the postseason has allowed Clark to keep up with his former teammates and witness the moments that have put the East's top seed in such a stunning predicament.
It wasn't always that way, however.
"Last year I didn't watch," Clark said. "It was too hard to watch last year being traded halfway through the season, but this year -- I'm not 'past it.' It'd still be nice and a lot of my heart was still there with a lot of the players, but it's nice to see them doing well, and -- not so well at this point -- but they had a great season. They won the East again and now getting through the first round, it's nice to see the players that I've played with have success."
With the Jackets out of the playoffs, Clark, an impending unrestricted free agent, said Wednesday that with no stake in the postseason he is rooting for his old team. But their current situation will require a rally of historic proportions to advance to the conference final -- proportions seen just once in the past 36 years and only three times in League history.
Undoubtedly, the lion's share of pressure on the Capitals will rest with their superstar winger -- and the man who succeeded Clark as captain -- Alex Ovechkin. Following Washington's loss in Game 3 Tuesday night, Ovechkin told reporters in the locker room that the Caps would win Game 4, noting, "It's not over. They won three, we can win three." But this series will be one of the early tests of Ovechkin's captaincy, and as he develops into Washington's leader this could factor largely into how respected or accomplished a captain he becomes.
Ovechkin has already been praised by many for letting his personal numbers take a hit for the good of the team this season. Despite his lowest career total in goals, many have recognized a much greater commitment to his defensive responsibilities. As the man who held the post before Ovechkin, Clark not only understands the pressures he's facing, but is quick to point out that regardless of perception, multiple people bear the weight of leading Washington.
"I think he's doing all the on-ice stuff the way he should be doing it," Clark said. "There are times when he can try to do too much and take the team on his back and try to go end-to-end, but I haven't seen that as much this year. He's more of a team player. But in the locker room I think it's up to him, it's up to Mike Knuble, [Jason] Arnott, guys like that. It's not all on Alex. He can't say everything. It's got to be a team thing.
"I think they have a lot of veteran leadership on the team where they can just stand up and say, 'We've been playing well. We just have to keep sticking to what Bruce [Boudreau] and the coaches have been telling us.'"
Of course, whether Washington's leader is Alex Ovechkin, Chris Clark or George S. Patton, the task that lies ahead of the Caps is daunting. Given Philadelphia's rally from a 3-0 deficit a year ago and Chicago's near completion of the same feat in the first round against Vancouver this year, the accomplishment may seem far easier than it is. But four straight wins is a challenge against any team. Doing so against one as talented and hot as the Lightning, who have won six straight postseason games and may have the hottest goalie in the League in Roloson, doubly so.
But recent postseason history has shown the unlikely is possible, and if the Capitals are to keep their season alive and do something special in the process, the opposing player who knows them best will be watching.
"If any team in the past couple of years can win four in a row I would have picked them," Clark said. "You never know what could happen at this point."
Reach David Kalan at dkalan@nhl.com