City keep pace in title hunt despite stale win over Palace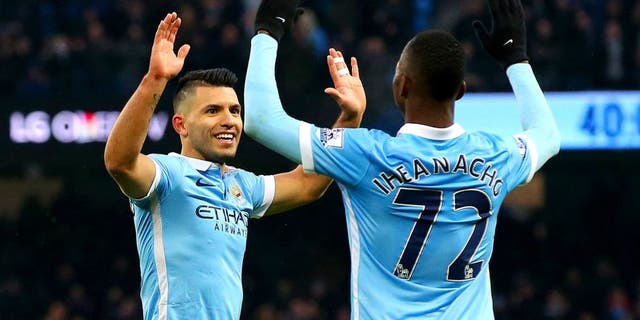 MANCHESTER, England --

Winning a league title is as much about the remorseless accumulation of mundane victories as it is about results against the elite, and reeling off those victories against the Premier League's mid-ranking and lesser lights has been a problem for City. This may come to be seen as a run-of-the-mill, tick-the-box win, and in the sense that, having taken the lead, City never looked like losing it, perhaps it was, but equally it would be hard to pretend this was City playing at anything like its best.
It would be wrong to be too critical of a side that has just won by four clear goals but equally it would be fallacious to pretend this suddenly heralds an upturn in City's form. This was that oddest of things: An unconvincing 4-0 win. Once again there was a slow start and again without Vincent Kompany it looked vulnerable defensively. There was little urgency about anything it did. But two goals before halftime, the first from Fabian Delph, the second from Sergio Aguero, both from slightly fortuitous long-range efforts meant there was rarely any tension. Aguero added a third after 69 minutes and then laid on the fourth for David Silva with seven minutes remaining.
Yet Palace in many ways had been the better team in the first half. Certainly there was little sense of City dominating as it had in beating Palace 5-1 in the Capital One League Cup. This wasn't a performance to match the crushing wins over Newcastle, Bournemouth or Sunderland. It was a just-enough performance. That, of course, is the great advantage of having a squad packed with hugely expensive stars. Even in a poor display they are capable of moments of brilliance that can settle a game.
It had started looking like being another of City's half-paced lackluster dispalys. Palace again and again caused problems with crosses and Damien Delaney should have done better two minutes in when he was picked out by Connor Wickham but headed too close to Joe Hart. But around the 20-minute mark, City showed signs of waking from its slumber. Silva fired just wide and then, after 22 minutes, Delph put City ahead, his 25 yarder skidding off the turf and under Wayne Hennessey's dive. It wasn't a howler on the level of the goal Hennessey conceded against Aston Villa on Tuesday, but the goalkeeper should have done better.
Yohan Cabaye drew a full-length diving save from Hart with a free-kick but just as it seemed Palace might be creating sustained pressure, Aguero received the ball 25 yards out to the left of goal, he shaped his shot around Joe Ledley and got lucky as it clipped Scott Dann's head and was diverted past Hennessey.
Yaya Toure had been left out of the starting lineup for City, which seemed a logical precaution given how tired he has looked at times recently. He has, after all, started 28 games this season, more than any other City player. Oddly, though, the 31-year-old was introduced 13 minutes into the second half for Kelechi Iheanacho. Perhaps Manuel Pellegrini felt there was a danger of Palace coming back into it and wanted the greater defensive presence of Toure, but this felt like a missed opportunity to give the young Nigerian some minutes.
Toure did, though, soon make absolutely certain of the points, shaping a perfectly weighted pass wide from Kevin De Bruyne, whose low cross was tucked in by Aguero. The Argentine might have completed a hat-trick after leading a late break, but instead squared for Silva to tap in.
As in the 3-0 defeat to Chelsea, there was a sense that Palace was a little unfortunate, certainly in the margin of the defeat. There must, though, be a little concern. There was the FA Cup win at Southampton to offer succor, but in the league Palace has failed to score in five games and has lost the last three. It remains in the top half and relegation is possible only in the most paranoid dreams of fans, but it wouldn't be the first time Alan Pardew suddenly found himself unable to motivate a side in his second season at a club.
The three points lifted City, temporarily at least, top of the table, level with Leicester City, which plays at Aston Villa in the evening, and Arsenal, which goes to Stoke City on Sunday. Strolling wins are probably good for the nerves of home fans but there won't be many victories won this easily. If City is to stay top, it has find its sense of urgency rather more consistently. Then again, if it wins 4-0 at half-pace, imagine what it might do if it ever hits real form.