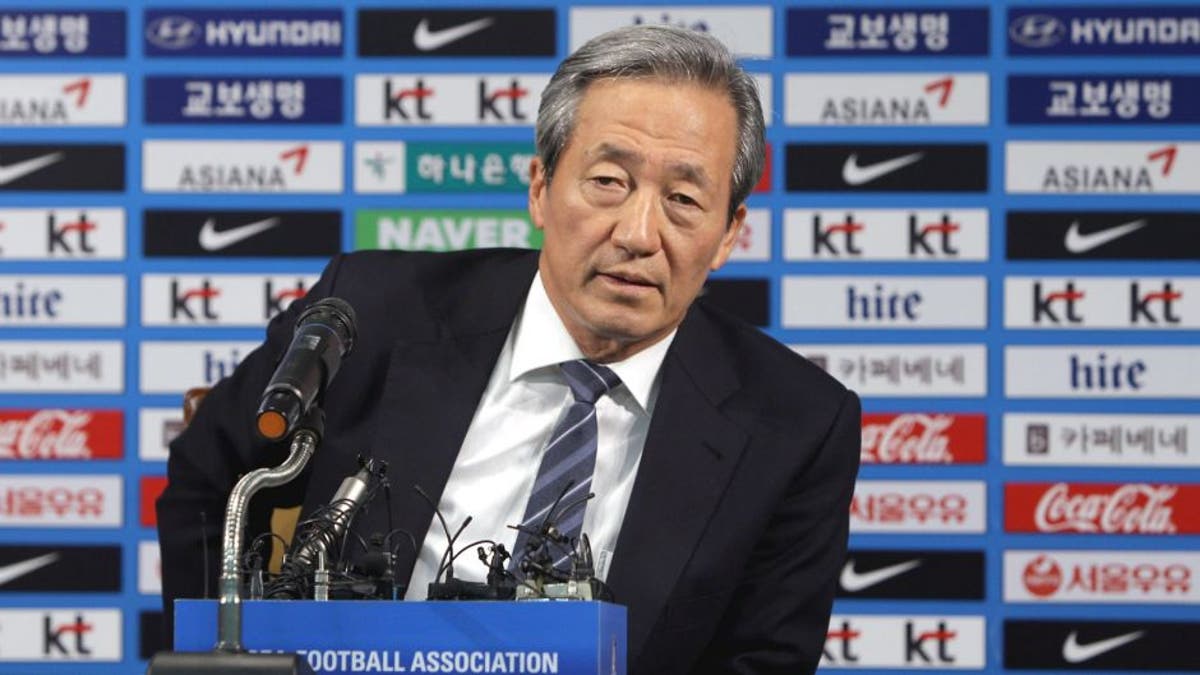 PARIS --
Announcing his bid to run for FIFA president, Chung Mong-Joon pledged to help the governing body clean itself up if he gets elected.
Speaking at a news conference in Paris on Monday, the South Korean said ''it is my privilege and honor to announce my candidacy,'' before quickly turning his sights on long-serving president Sepp Blatter.
After 17 years as FIFA president, Blatter said on June 2 he was standing down, under pressure from American and Swiss federal investigations of widespread corruption implicating senior FIFA officials.
''The real reason FIFA has become such a corrupt organization is because the same person and his cronies have been running it for 40 years. Absolute power corrupts absolutely,'' Chung said. ''It has pained me to witness the spectacle of the FIFA president being booed by the fans at football stadiums everywhere. In 2011, when a European sports magazine conducted a survey asking `What do you think about FIFA President Joseph Blatter?' 95 percent said `Blatter is ruining football.'''
On May 27, a United States federal investigation of corruption in world soccer was unleashed on FIFA. Though Blatter won re-election two days later, it took only four more days before he decided to step down.
Chung, a FIFA honorary vice president, promised change if he wins the election on Feb. 26.
''Under these circumstances, the FIFA president must be a crisis manager and a reformer. He must be more than just a head of the technical department,'' Chung said at a Paris hotel. ''After decades of an ever-widening circle of corruption, FIFA needs a leader who can bring back common sense, transparency and accountability.''
UEFA President Michel Platini has already declared his candidacy and is widely favored to replace Blatter. The former France midfielder, a FIFA insider after 13 years as an executive committee member, has taken advantage of his access to soccer power brokers.
At the Champions League final in Berlin and FIFA meetings in Zurich and St. Petersburg, Russia, he outlined his plans and gained early support.
''Michel was a great football player. I played golf twice with Michel, his swing is not that great, it's lucky he chose football instead of golf,'' Chung said, but then criticized Platini for having a ''father and son'' and ''mentor-student'' relationship with Blatter over the years.
Platini was formerly a supporter of Blatter.
Would-be candidates must apply by Oct. 26. FIFA members from the 209 national federations elect the president.
Prince Ali bin al-Hussein of Jordan, who lost the last FIFA election vote 133-73 to Blatter on May 29, is also touted to stand again. Former Brazil great Zico, who scored 48 goals in 71 games for his country, and Liberian soccer federation president Musa Bility are also among those reportedly planning to run.
The 63-year-old Chung was a member of FIFA's executive committee from the mid-1990s until 2011. During that time, he was an opponent of Blatter.
In a clear swipe at Platini, who is now an outspoken opponent of Blatter, Chung said ''it has suddenly become very fashionable to be Blatter's enemy, this is too convenient.''
A former equestrian rider and cross-country skier and president of the Korean Football Association, Chung failed in his bid to become mayor of Seoul last year.