Chuck Pagano's status unknown as Colts players campaign for coach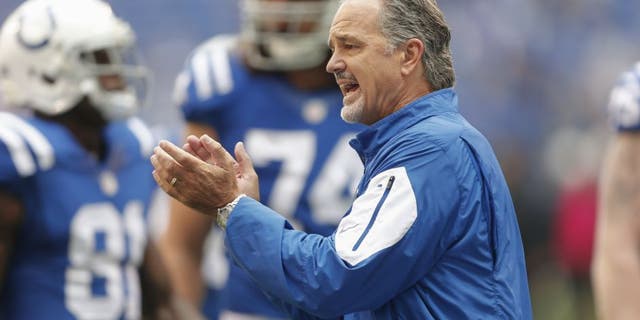 INDIANAPOLIS -- Indianapolis Colts coach Chuck Pagano kept his job title for one more day.
How much longer he'll have it is unclear.
The 55-year-old coach and team owner Jim Irsay spent most of Monday afternoon meeting inside the team complex and after several hours, team spokesman Avis Roper told reporters no announcement would come until at least Tuesday.
With Pagano's contract set to expire, the conventional wisdom is that he will not return as Indy's coach. But the delay renewed hope among Pagano's biggest supporters that he could come back.
"I don't see any reason for change. I think Chuck is the guy for this team to lead us to a Super Bowl," linebacker D'Qwell Jackson said.
"You look around the league, all the head coaches that have been around for years, there have been off years. If an off year is 8-8, I know some teams would give their right arm to go 8-8. I don't see a need for change."
Some Colts fans agree.
As players continued to post their personal sentiments on Twitter, Colts fans adopted the phrase (hash)Chuckstay to show their support. That's a spinoff of the (hash)Chuckstrong tagline that became popular when Pagano was battling leukemia in 2012.
Pagano's backers largely believe general manager Ryan Grigson, who has one year remaining on his original contract, should be the one to go. They believe Grigson's hits and misses in free agency and the draft were the biggest problem and that Pagano did all he could with the hand he was dealt.
Grigson's supporters question Pagano's ability to get his players to execute. They also point to poor play calls, continual penalties, turnovers and a series of questionable decisions such as the bungled fake punt against New England.
Only one opinion really matters, though, and Irsay hasn't dropped any hints about which way he's leaning.
On Thursday, he issued a statement denying reports that anybody's fate had been decided. After Sunday's 30-24 victory over Tennessee, the usually chatty Irsay quickly left the locker room without talking to reporters, and he had no updates on his Twitter feed for most of Monday.
How much longer this takes is anybody's guess.
Before players started cleaning out their lockers, Pagano held this season's last team meeting. Players declined to say what specifically was discussed, but many acknowledged Pagano expressed "love" for each of his players.
"I'll tell you this, he's given his heart and soul every day since I've been here," Andrew Luck said.
"I feel like I've grown so much as a player, as a person under him. Through this season, which became trying and disappointing, he's always been a sort of bastion of whatever that is of a good coach."
Jackson and others are hoping the delay is good news for Pagano, who turned down a one-year contract extension last offseason and gambled he could take Indianapolis to a fourth straight playoff appearance, a third straight division title and their first Super Bowl in six years.
Pagano is 41-23 in four seasons in Indy and has won three playoff games.
But with the injured Luck missing nine games this season and 40-year-old backup Matt Hasselbeck dealing with a myriad of injuries in December and January, the Colts never lived up to the preseason Super Bowl hype.
They finished 8-8, were eliminated from the playoffs Sunday and are trying to figure out what to do in an offseason full of uncertainty.
Apparently, so is Irsay.
"Every guy in this locker room would love to have Coach Pagano here," defensive tackle Kendall Langford said. "We have his back, but at the end of the day, we don't make those decisions."