Chuck Pagano: 'This team will stick togehter'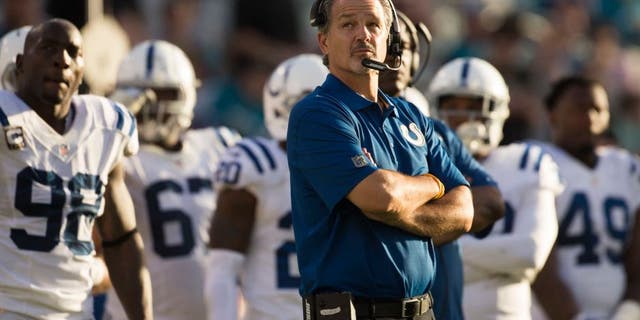 NEWYou can now listen to Fox News articles!
In the aftermath of a 51-16 blowout at the hands of the Jacksonville Jaguars in which the Colts were outscored 42-3 in the second half, Indianapolis head coach Chuck Pagano and his team are once again under scrutiny.
The Colts, who have struggled to a 6-7 record through a combination of injuries to key personnel, along with poor play at times, saw their 16-game winning streak come to end in Sunday's loss. The loss was the Colts' second blowout defeat in as many games, after Indianapolis fell to the Pittsburgh Steelers 45-10 on the road last week.
Pagano, though, said he still believes his team is capable of turning things around in time to secure their fourth consecutive AFC South title.
"We're all going to come under fire, all that stuff,'' Pagano said, per Indy Sports Central's Mike Chappell. "Blinders on, ear muffs on. We can't do anything about that. We made this bed.
"It starts with me, OK, and everybody else. We're in this thing together. This team will stick together, I know that. We'll go back to work. That's where this team is at.''
Despite the lopsided loss, the Colts still control their playoff fate and will clinch a spot in the the postseason with wins in the team's final three games against the Houston Texans, Miami Dolphins and Tennessee Titans.