Christian Ponder takes Minnesota's boos in stride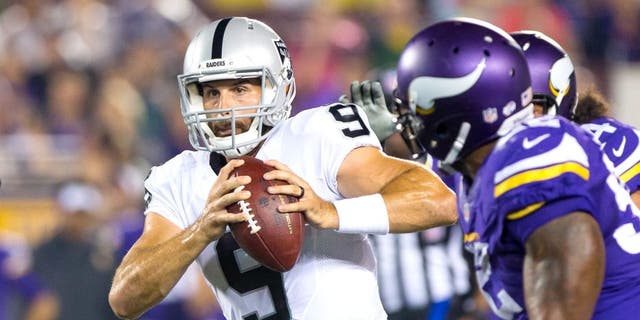 Oakland Raiders backup quarterback Christian Ponder, a former Viking, expected to hear boos upon his return to Minnesota. So, when they rained down on him on Saturday evening at TCF Bank Stadium, Ponder wasn't surprised.
"I was prepared for it, so it didn't really affect me," Ponder said, per Chris Tomasson of the Pioneer Press. "It made it kind of fun coming back. It was good to see a lot of the guys, a lot of the staff and a lot of the players and reconnect with them. But you know, it was expected, so I got a little chuckle out of it."
Ponder, 27, was the 12th-overall draft pick in 2011 and posted a quarterback rating of 75.9 through four seasons with the Vikings. In a losing effort, Ponder completed 7-of-11 pass attempts for 69 yards on Saturday. He did not throw a touchdown or an interception, but he was sacked once for a loss of one yard.
Now in his fifth NFL season, Ponder is currently battling Matt McGloin to be Derek Carr's immediate backup in Oakland.
(h/t TwinCities.com)