Christian Hackenberg was so off target at Jets OTAs that some of his passes hit reporters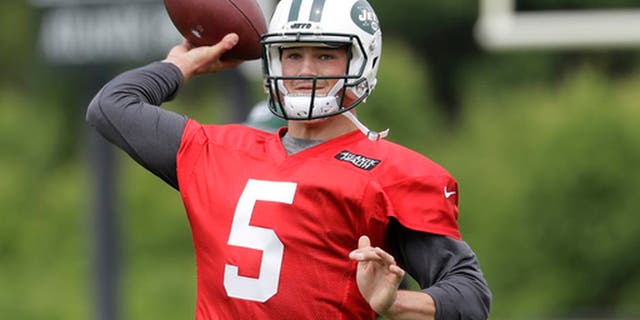 NEWYou can now listen to Fox News articles!
As the New York Jets continue to purge their roster of virtually all of their veteran players, those who remain are attempting to hone their skills at OTAs. And it appears one quarterback on the roster needs a bit more time refining his touch.
According to Connor Hughes of N.J.com, Christian Hackenberg struggled mightily with his accuracy during the organized team activities, repeatedly missing his targets and on two occasions overthrew his receivers so badly that the passes traveled off the practice field and hit reporters on the sidelines.
When Hackenberg misses, he really misses, Hughes wrote Thursday. He threw just two interceptions in team drills, but nearly tossed six others. And Im not talking about a receiver falling down. Im saying the defender just dropped the ball. Other times, the wideout/running back/tight end was wide open, and Hackenberg sailed it over his head or bounced it to him. That cant happen. In the three media-open OTAs, Hackenberg hit reporters with passes twice.
Hackenbergs arm strength was on full display during his time at Penn State, but it looks like he needs to dial it back a touch. He is one of only three quarterbacks on the roster, competing with Josh McCown and Bryce Petty for the starting spot. The 22-year-old Hackenberg has yet to attempt a regular-season pass after the Jets took him in the second last year.
The club has turned some heads this offseason by cutting ties with a number of big-name veterans, includingBrandon Marshall, Nick Mangold and Eric Decker in the coming days.