Chris Weidman: I'm not leaving MMA without fighting Jon Jones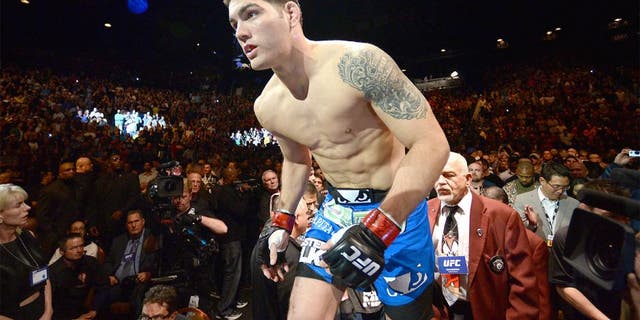 UFC middleweight champion Chris Weidman has not been shy in letting the world know that he wants to fight fellow New Yorker and wrestler, stripped former light-heavyweight champion Jon Jones. On Monday Weidman truly put into perspective precisely how badly he wants to fight Jones, however.
To be short -- real bad. Weidman has already beaten some of the best fighters in MMA history, but he won't consider his career complete unless he locks up with "Bones."
"That's nothing against Jon," Weidman told the MMA Hour.
"It's just because I'm a competitor. I want to fight the best possible people. I want to have the biggest challenges in front of me and conquer them. ... That's why I wanted to fight Anderson Silva when nobody else wanted to fight him. I want the biggest challenges. I want to beat people who people think I can't beat. And Jon is definitely going to be one of those guys."
At this point, we should all believe the underdog-turned-dominant champion when he promises he'll do something. Now he's saying that he will definitely fight Jones.
"I know for a fact, I'm not leaving this sport without fighting Jon," Weidman continued.
"Unless he's not coming back at all. But if he's there, and I'm here, people are going to want to see it happen. And I want to see it happen."
Jones has profound legal and personal problems to address in addition to any possible future fights. Weidman has repeatedly said that he understands the struggle to stay on the straight and narrow, and he repeated his hope that Jones gets right.
"He's an amazing athlete and he's accomplished so much," Weidman concluded.
"So I hope he gets his stuff together and he comes back."