Chris Ivory looking to breakout in crowded Jets backfield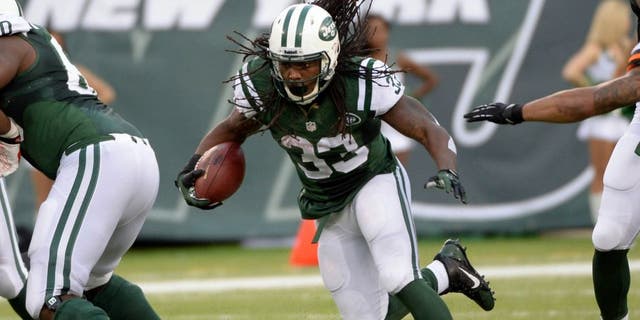 The New York Jets have a crowded backfield, but one back has yet to emerge as a bellcow to shoulder the load. Chris Ivory is the leading man for the job, but Stevan Ridley, Bilal Powell, and Zac Stacy are waiting in the wings.
Ivory, who's split carries with Chris Johnson and Powell the past two years, respectively, is hoping that 2015 is his breakout campaign as a No. 1 back.
"Right now, I'm doing pretty much everything," Ivory said via ESPN. "And I just [want to] make them feel comfortable with me in there with everything they have me doing."
Although he has led the Jets in carries the last two seasons, he hasn't exactly found himself head-and-shoulders above his competition. This season could be different, as head coach Todd Bowles has been impressed with Ivory thus far. There's just one area of concern for Bowles, where Ivory needs to improve.
"He's as advertised," Bowles said. "We knew he was tough and he could pound it up in there. But he cuts well, he's got good vision [too].
"He's going to have to become a better receiver," Bowles continued. "He has decent hands. He just needs to concentrate a little more."
Ridley is currently on the PUP list, which doesn't allow him to practice until he's cleared by the medical staff. Powell and Stacy have been healthy in training camp, but Ivory has remained the No. 1 back thus far -- and rightfully so. He's the most proven back out of the three, and his numbers are there to back it up.
According to Pro Football Focus, Ivory has forced a missed tackle every 4.4 carries in his career, which is the best among all running backs.
If he can improve his pass-catching ability, he can be a real weapon for the Jets. With Geno Smith at quarterback, the Jets are expected to run the ball a lot this season, and Ivory's number could get called more than any other running back on the roster.
(h/t ESPN)