Chris Harris gets tricked into rubbing his face on a massive python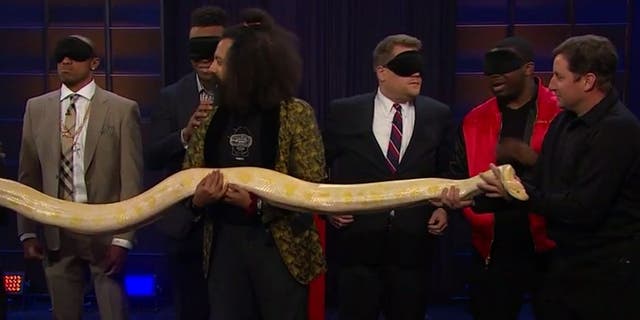 The Denver Broncos defenders aren't just good at reading quarterbacks eyes. They seem to be able to have a nose for inantimate objects, or 12-foot albino pythons.
Appearing on The Late Late Show with James Corden, three Broncos -- cornerback Chris Harris Jr., linebacker Brandon Marshall and running back C.J. Anderson -- engaged is a spirited bout of "Nuzzle Whaaa?" where they had to rub their face against something wearing a blindfold to figure out what it was.
After a football helmet and omelet started things off, round three brought out the big guns: a massive albino python.
Well, Harris nailed the guess right away -- as he was the only Broncos player to actually participate in the third round. Check it out: