Chris Davis won't matter unless the O's upgrade their rotation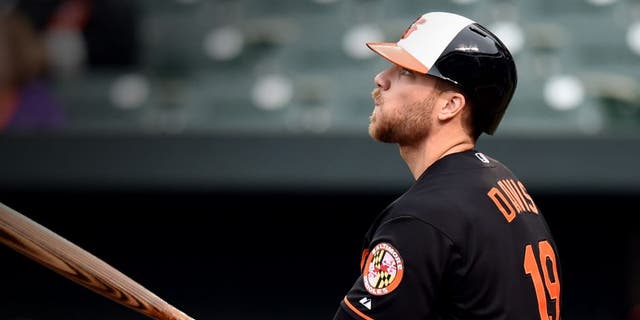 I would say Scott Boras blinked, except that for $161 million over seven years, the Orioles did not exactly pound Chris Davis into submission.
Davis was Plan A all along, as well as Plan B and Plan C, at least in the mind of Orioles owner Peter Angelos. So, when the O's leaked that they were making a run at free-agent outfielder Yoenis Cespedes in the five-year, $90 million range -- not much higher than, ahem, the Mike Leake deal, but a serious enough offer -- the two-month staredown between Angelos and Boras finally came to a head.
The result, according to major-league sources, is $23 million per season for a left-handed hitting slugger who turns 30 on March 17, a slugger who made more sense than Cespedes for Baltimore's predominantly right-handed lineup, even if Cespedes hits righties well.
The deal is pending a medical review, and that qualifier always carries more significance with the Orioles than it is does with other clubs -- Angelos has demonstrated countless times that he is a stickler for clean medicals. Then again, Davis is the Orioles' own player. Angelos is fond of him. The team doctors already know everything they need to know, or should.
In any case, the offseason isn't over for the Orioles, even though the Davis contract -- which includes a full no-trade clause -- will be by far the biggest in club history.
The O's still need starting pitching, need it badly. Otherwise, Davis will be nothing more than an ornate showpiece, a freak-show, home-run hitting attraction at Camden Yards.
The Orioles' rotation ERA increased from 3.61 in 2014 to 4.53 last season, and that was with left-hander Wei-Yin Chen as the team's top starter; he since has signed with the Marlins. The O's remain in contact with free-agent righty Yovani Gallardo, but signing him would cost them their top pick, No. 14 overall. And now they won't be getting a pick back for Davis, to whom they made a qualifying offer.
The Orioles could have landed seven of the top 100 selections if free agents Davis, Chen and catcher Matt Wieters had signed with other clubs, but that number will reduce to four if they sign Gallardo. The picks are critical to them, though they haven't drafted particularly well or been particularly lucky with the health of their young pitchers in recent years.
The club's operating theory is that it can't buy pitching in free agency. That argument seems hollow now that the O's have dropped $161 million on Davis, but Angelos had a fondness for the player, viewed him as a special case. The best way for the O's to acquire elite pitching is still through the draft.
Their offense should be OK -- before Davis, they re-signed Wieters after making him a qualifying offer, traded for first baseman/outfielder Mark Trumbo and signed Korean free-agent outfielder Hyun-soo Kim. They also fortified by their bullpen by re-signing free agent Darren O'Day.
A starting pitcher should be next. A starting pitcher has to be next. A rotation led by a front four of Chris Tillman, Ubaldo Jimenez, Miguel Gonzalez and Kevin Gausman simply is not good enough.