Chris Davis will get free crab cakes for life after signing new deal with Orioles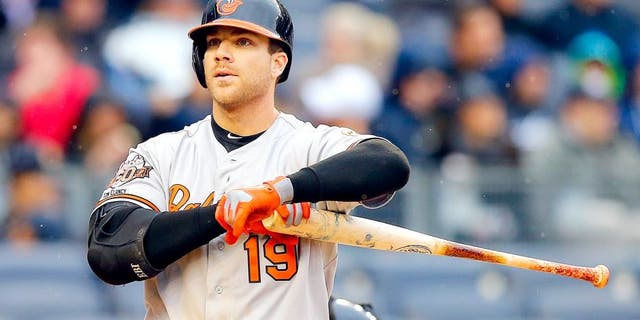 Chris Davis is staying in Baltimore, thanks to a new seven-year, $161 million deal ... and free crab cakes?
The Orioles and the free-agent first baseman agreed to terms over the weekend, and the O's aren't the only ones that will be paying up to Davis.
Baltimore-based Jimmy's Famous Seafood will make good on their offer to give the slugger -- and the next two generations of his family -- free crab cakes for life.
Jimmy's Seafood first tweeted the offer to Davis back in December, in hopes of persuading him to re-sign with Baltimore.
When the news of Davis' agreement with the O's broke on Saturday, Jimmy's Seafood's Twitter mentions went nuts. The restaurant confirmed with fans that their tasty offer still stands.
The free crab cakes deal wasn't exclusive to Davis though. Jimmy's made the offer to Yoenis Cespedes when rumors of the O's interest in the free agent outfielder heated up last week.
The signing of Davis likely means that Baltimore is out of the running for Cespedes, who is reportedly seeking a long-term deal worth upwards of $100 million.
While the folks at Jimmy's could be shelling out a lot of free crab for Davis and his family for decades to come, there's one person specifically excluded from the offer: his agent, Scott Boras.
With the commission Boras will make off of Davis' deal, he shouldn't have any problems covering his own check.