Chris Camozzi says he's got the intel to beat Joe Riggs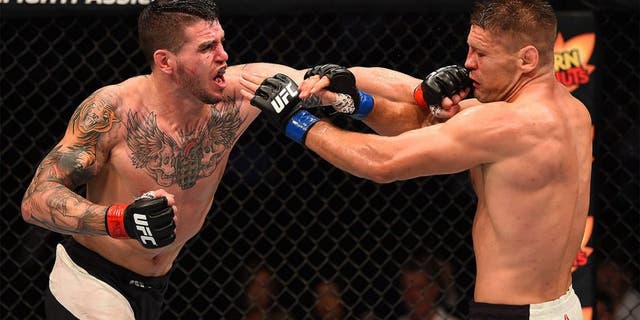 Before visiting Chris Camozzi, the word I'd gotten from people close to him was that the always hardworking UFC middleweight had, in fact, been working harder than ever. Camozzi fights Joe Riggs Sunday, in Pittsburgh, live on FS1.
If he wins, it will be two-straight wins in the UFC for the Colorado fighter, and his fourth victory in five fights, overall. When I did catch up with the 29 year-old last week, he confirmed that he was extra motivated for this one.
In addition to working harder, he said he's also working smarter, with tight focus on the areas he needs the most improvement in. "I would say that this is the hardest I've ever worked," he admitted.
"It is a cliche to say this, but this really is the best I've ever felt. I have a strength and conditioning coach, now, and he's really focused me on getting stronger and more explosive, with functional exercises. We tweaked things from the last fight, where I actually felt tired late in the fight."
Tired or not, that last fight was still one of Camozzi's most impressive in recent years. He pushed through and controlled a very good opponent in Tom Watson, and had to show new wrinkles to his game (namely, takedowns) to do it.
Camozzi said that he's continued to work to improve his wrestling, in preparation for Riggs, and is glad he's had the time to properly train. It wasn't too long ago, afterall, that he was fighting the likes of Ronaldo "Jacare" Souza on extremely short notice.
"It is nice to have full training camp and notice for fights. It will be a little longer between fights than I would have loved, but I think it was still good for me. I've been able to improve so much."
The middleweight has also had plenty of time to work with his coach Marc Montoya to develop a specific gameplan for Riggs. As it turns out, Camozzi says that Montoya was able to teach him a masters class in "Diesel."
"Whether or not Joe Riggs knows it, my coach Marc Montoya spent a lot of time around him and got to know him very well from their time on a reality show. Marc is just a student like that, and he filled a notebook on every guy on that show," he said.
Camozzi isn't naive enough to think Riggs won't have new tricks up his sleeve, of course. He is confident, though, that he'll head into the Octagon, Sunday, comfortable and ready for the core of what Riggs does and how he fights.
"I know he's improved, and I have as well," he allowed.
"But, tendencies are tendencies, and we're ready to take advantage of them."